Hands up if you drink coffee. Hands up if you love a cup of coffee. Have you ever been bought a coffee much or chosen one for yourself, purely because it shows your love for coffee? The coffee industry is vast. From your everyday instant to the many coffee shops, it's easy to ensure that you get what you need. Here at GoSmokeFree we can offer you another way to enjoy your favourite beverage, thanks to Coffee and Cream e liquids, producers of some truly amazing coffee themed e liquids.
More About Coffee and Cream E Liquids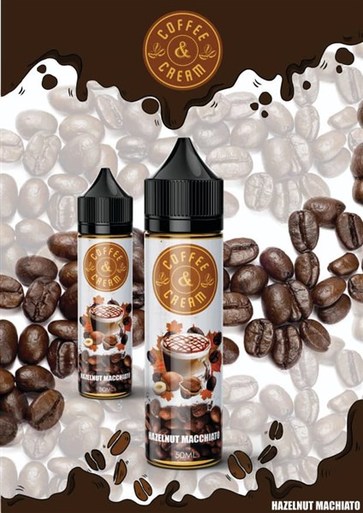 If you love a cup of coffee and know all of the names of the different coffee types in the coffee shop this could be the brand for you. To be fair, we don't think that you need to even be a coffee expert to enjoy any of these vape flavours. They really do produce the most amazing flavoured vapours. All of the Coffee and Cream e liquids are short fill e liquids. Short fill e liquids come in a 60ml bottle with 50ml of zero nicotine in your favourite flavour. This "gap" allows you to customise the nicotine strength in your e liquid. Use the free nicotine shot provided or use your own. You simply need to pour in, fastened, mix and then it is ready to load up into your favour e cigarette device.
All of the C&C e liquids also boast all of the benefits that come with being a high VG e liquid. With a dedicated 70/30 VG/PG mix you know that all of these vapes will be incredibly smooth and offer a thick, full and flavoured big vape cloud. If you're not using a cup or mug, this is the only way to enjoy your favourite cup of coffee.
There are numerous coffee flavours on the site right now, ready for you to enjoy. We can't describe them all for you and we don't pick favourites (but) if you enjoy a sweet coffee we suggest you give the Caramel Frappucino e liquid from Coffee and Cream a try!
Getting the Most Out of Your Coffee Vape
There are many things that you can do to make the most out of your coffee flavoured e liquid, or indeed any e liquid flavour. It all depends on what you are looking to achieve. First of all you need to look at what you are looking to achieve. If it is quality of flavour you crave, any of our e liquids will offer that. If you want to really ramp up the flavour it might be worth looking at a sub ohm set up. Sub ohm vaping is vaping using low resistance coils at a higher heat. This amplifies the flavour of the e juice. These Coffee and Cream e liquids are perfectly capable to offer you a truly tasty coffee flavoured vape whatever device you are using.
Conclusion
There are so many ways that you can customise your vaping experience which is partly why smokers find vaping attractive and switch from one to another (that and the health benefits of giving up smoking). If a drink flavoured e liquid is what you're looking for you can't do wrong by choosing this particular Coffee and Cream brand. Here at Go Smoke Free we work really hard to ensure that each and every e liquid we put on our shelves is top quality and will offer an enjoyable vaping experience. We've selflessly tested this whole range for you (the things we do for our customers) and are happy to recommend any of these flavours. For coffee fans this really is the way to go. All you need then is some cake….