We are delighted to be able to introduce KO Vapes, our new range of high VG, short fill e liquids. So tasty, they fly off the shelves so fast that you'd think we were offering cheap TVs on Black Friday. On a serious note, these e liquids have been expertly crafted in the UK in order to offer you amazing flavours and a satisfying vape. Keeping reading to find out more:
High VG E Liquids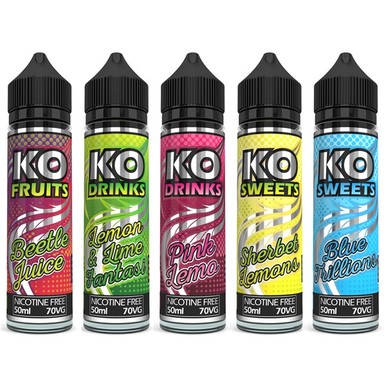 We've chosen to use a high VG e liquid base of this KO Vapes range so that you may enjoy a smoother vape brimming with flavour with extra vapour fun too. Boasting a high VG base these KO Vapes e liquids offer a thick, full and smooth big vape cloud experience. These are great e liquids for those who enjoy a sub ohm vape or who consider themselves to be keen cloud chasers. Our high VG ranges have always been very popular and with these awesome flavours and all of that fab vapour, KO Vapes look set to be just as much a winner.
KO Vapes are Short Fills
Short fill e liquids are incredibly popular with good reason. If you don't know much about them, now is the time to learn. When you buy a KO Vapes short fill e liquid you receive a 60 ml bottle with 50ml of zero nicotine e liquid in it. You aren't be short-changed, it's done that way for a reason. The 10ml "gap" is there for you to add the free nicotine shot (included in single bottle purchases) or for you to use some of your own.
Short fills are perfect for those of you who found yourself frustrated by the TPD regulations which put a limit on the size (maximum 10ml bottles) of e liquids bottles containing nicotine you couild buy. It is, however, perfectly ok to buy your own nicotine shots at whatever strength you prefer (usually 18mg or 20mg) and add it to zero nicotine e liquid. They also offer excellent value for money. Our KO Vapes short fills tick all of the "make your vape your own" buttons.
KO Vape Flavours
We've gone all out with our KO Vapes flavours, offering a range of mouth-watering flavours to suit all palates. Our expert mixologist use only the very best ingredients in each and every batch and on top of that, they employ cutting edge production processes in order to produce the very best high VG e liquids each and every time.
We have quite the range of KO Vape flavours for you to enjoy….
KO Vapes Drink Flavours
When it comes to our drink flavoured e liquids we know that you are looking for a vape that offers awesome clarity of flavour from the very first draw. We've gone all out to ensure that these high VG short fill KO Vapes e liquids are exactly what you want and need. There's something for all tastes too. If you're looking for something sweet, creamy and fruity, our KO Vapes banana milkshake could be just thing for you. We've tried it out obviously and it just oozes banana goodness.
If you're looking for something a little more tangy, the KO Vapes Lemon & Lime Fantasi should be at the top of your list. Made by us here in the UK yet similar in style to the Malaysian e liquids that boast global popularity, this lemon and lime fantasi ejuice offers tart fruit with a pleasing sweet undertone and a cooling exhale. Basically you get three for the price of one!
These are just two of our popular drink flavours, so make sure you check out the rest of the range.
KO Vapes Dessert Flavoured E Liquids
Who doesn't love a dessert-flavoured vape, right? What isn't there to like? Sweet, creamy, luxurious treats that are entirely guilt-free. No calories here but all of the top dessert flavours that you are used to. There are many KO Vapes dessert flavours to choose from and the Go Smoke Free team were split when it came to choosing a favourite. What we can say though is that they all offer a fabulously thick and smooth big vape cloud filled with flavour, just ready and waiting for your enjoyment. If you're not sure where to start have a look at the Ko Vapes Caramel Creamnut e liquid, a sweet and heady mix of sweet caramel, nutty goodness and a truly delightful smooth and sweet creamy taste.
KO Vapes Fruit Vapes
There are so many fruit-flavoured e liquids out there. We though that when we put this new range together that we'd push the boat a little, making it easier for you to find awesome flavours at very reasonable prices. Take our KO Vapes Bad Blood e liquid for instance. This e juice features rich and deep blackcurrant flavour alongside a subtle sweetness and a low mint which offers a Malaysian-style cool exhale. This truly is one of those e liquids that will have you gasping for more.
This is just one of our fabulously fruity tastes so if a memorable fruity vape is what you're looking for there's a whole KO Vapes fruit range for you to explore.
KO Vapes Menthol
Believe it or not we only have one "true" menthol flavour in the KO Vapes range so far. There's a good reason for it though. We just don't want to overwhelm you! There are some truly fabulous flavours in the range right now and this epic KO Vapes Blackcurrant Menthol e liquid ticks all of the minty-fresh boxes. If you're looking for more mint, why not take a nosy at any of the Fantasi flavours, all of which boast a cooling menthol exhale that is incredibly pleasing to the senses. Don't worry though, there's every chance that we'll be adding more menthol flavours to the range in the near future.
Slush Flavours from KO Vapes
We just love a slush flavour e liquid; fruity, sweet and cool, what's not to like. The flavours are fabulous and offer an nostalgic feeling that makes these flavours all the more attractive. KO Vapes Cola Slush is a good all-rounder, offering the classic cola tasty and an icy kick, leaving you satisfied, refreshed and ready for anything. There are plenty of slush flavours for you explore so if this is your kind of e liquid flavour you're in the right place.
KO Vapes for the Sweet-Toothed Vaper
One of the worst things about having a sweet-tooth is the fact that everyone keeps saying no! Don't eat that. Don't drink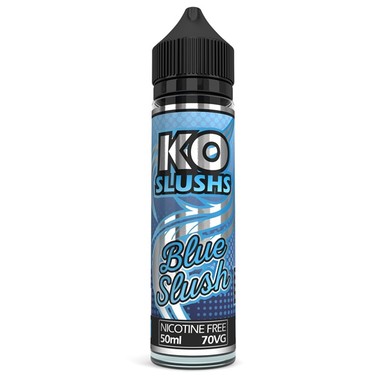 that. They are too sugary! Your inner guilty voice is often the loudest of all. If any of this sounds familiar you are going to be bowled over by the KO Vapes Sweet E Liquids section. No guilt, no calories and no cavities. Add awesome flavours, such as those found within the moreish KO Vapes Fruit Pastilles e liquid and you may enjoy a thick, full vapour full of fabulously naughty sweet fruity flavour.
In Conclusion
We've been serving vaping customers for years and vape ourselves so understand the importance of balance. You have to make sure that you get the right base, the perfect combination of high quality flavours, the best possible price and the very best customer service, all 100% spot on each and every time. That's sums up the new KO Vapes range entirely, a knock out experience that ticks all of your boxes, whether you are looking to customise your nicotine strength, want awesome flavours, crave high VG big vape clouds or want it all!
We've had some great feedback from customers so far, all of whom have been head-over-heels for these flavours. We're sure you'll soon be joining them for an out of this world KO Vapes experiences soon!