The best advice for new vapers from the NCSCT

With Public Health England now ranking e cigarettes alongside patches, gum and Champix as an aid to quitting smoking, we've drafted this short FAQ to answer the top 5 e cigarette questions asked by new and would-be vapers.

The National Centre for Smoking Cessation and Training (NCSCT) is a community interest company that helps the UK's local stop smoking services to deliver effective 'quit smoking' support. We've researched some of the most useful advice recently released by the NCSCT on the safety of e cigarettes, e liquid and vaping devices.

Like many of the UK's health support services, the NCSCT recognise that e cigarettes are now the most popular route to smoke free living for UK tobacco smokers. They produce excellent, well informed publications supported by sound statistical evidence. In this post we check-out their advice on some of the most commonly asked e cigarette questions.

1) Are e cigarettes safer than smoking tobacco?

Based on current evidence, UK experts believe that e cigarettes are much safer than traditional tobacco cigarettes. Cigarette smoke doesn't just affect the health of the smoker: passive smoking can also cause a number of serious, tobacco related health problems. Switching to e cigarettes significantly reduces the health risk to the smoker. E cigarette vapour is also believed to be virtually risk-free for bystanders.

The NCSCT point to a 2016 report from the Royal College of Physicians which estimates that modern e cigarettes are expected to be around 95% less harmful than smoking tobacco.

2) How dangerous is nicotine?

Many people still believe that nicotine causes cancer. The NCSCT promote the message that nicotine is addictive, but it doesn't cause cancer or heart disease.

In large doses, nicotine is poisonous. E liquid for use in e cigarettes should be stored well away from children and pets. So far, there are no reported cases of a nicotine overdose from inhaling e cigarette vapour. If you do inhale too much nicotine, your body will respond by making you feel sick and dizzy. The feeling passes after 5 or 10 minutes.

Commercial e liquid can be bought in a wide range of nicotine strengths, so it's easy to drop down to a lower nicotine intake. You can even switch to lower strength e juices over time, gradually reducing your nicotine dependence.

3) Do e liquids contain harmful chemicals?

In the past some e liquids did contain flavouring chemicals that were known to be harmful. These chemicals included diacetyl and acetoin. E liquid producers have become much more aware of this problem. These days, most responsible companies have taken steps to remove the harmful chemicals from their e cigarette products.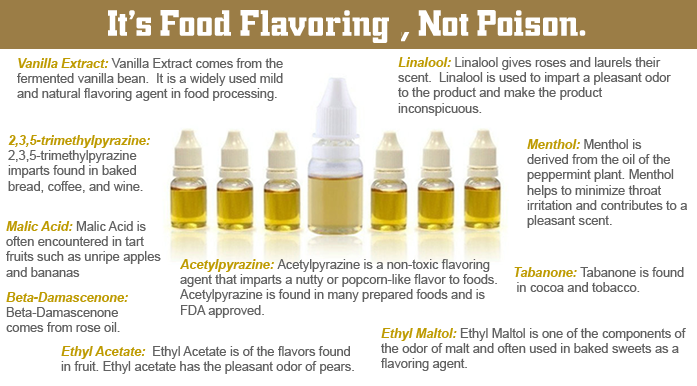 The NCSCT advise that toxic and cancer forming chemicals have been found in e liquid and e cigarette vapour. They explain that the levels are much lower than the toxic compounds found in cigarette smoke. The levels are so low in exhaled e liquid vapour that they aren't expected to pose any risk to bystanders.

4) Can e cigarette batteries explode?

Just like the rechargeable batteries in your smartphone or iPad, e cigarette batteries can overheat and cause fires in some circumstances. For this reason, it's essential that you use the recommended charger. You should also keep an eye on the batteries while they are charging. Before using your vaping device after charging, some experts advise that you should let the batteries rest for 10 minutes.

Another important safety tip is to avoid carrying an e cigarette battery unprotected in your pocket. Keys, coins and other metallic objects can short-circuit the battery contacts, with devastating results.

While we're talking about safety, one important fact to remember is that ordinary cigarettes are actually the most common cause of lethal house fires!

5) Which e cigarette kit is the best for a new starter?

With so many different devices on the market this is a difficult question to answer!

Many smokers begin with a simple 'cig-a-like' device that looks and feels like a real cigarette. Whilst these devices are cheap and easy to find in your corner shop, the experience is generally quite disappointing.

A pen style e cigarette starter kit like the Kanger Top EVOD
is a popular choice that offers great value for money. This is a discreet model with a refillable e liquid tank and easily replaceable coil heads. This type of e cigarette kit has helped many thousands of smokers to kick the tobacco habit.

Eventually, most vapers switch to more advanced vaping equipment. A mid-range 'sub-Ohm' starter kit gives you full control of the warmth, flavour intensity and cloud volume of your vaping experience. With powerful rechargeable batteries and bigger tank capacity, these devices are generally more versatile and convenient. Advanced, sub-Ohm vaping starter kits are a little more expensive than a simple, pen style e cigarette. The Aspire EVO 75 starter kit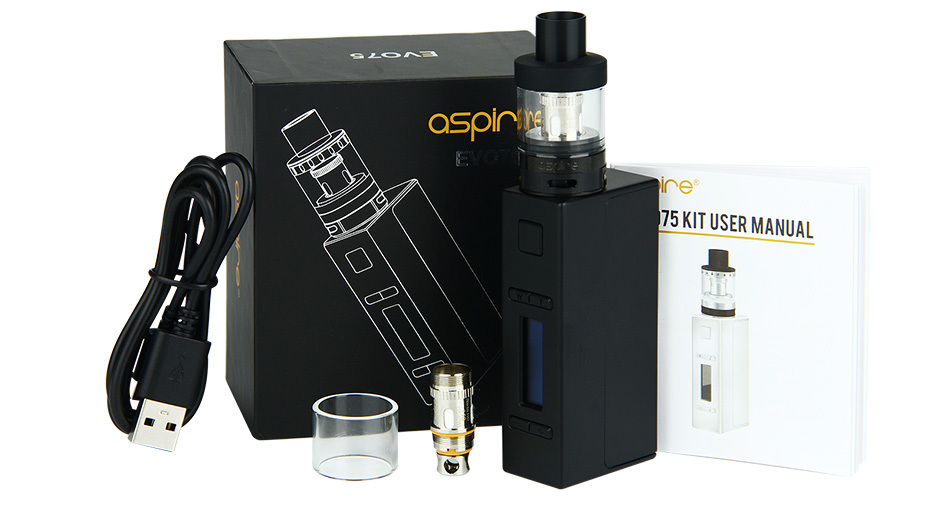 is a very popular model with good reliability and an excellent range of features.

Conclusion

E cigarettes are now officially recognised as England's most popular aid to quit smoking. As well as being 95% less likely than tobacco to cause serious health issues, the latest e cigarettes can also satisfy the nicotine cravings of your early, smoke free months.

Whilst the ideal result for everyone is being able live life without tobacco or any other nicotine replacement therapy, we've seen that nicotine is much less harmful than tobacco smoke and certainly doesn't cause cancer.

We hope that our post has answered some of your questions about e cigarettes. If you've been thinking about trying e cigarettes as an alternative to tobacco, we'd encourage you to give it a try.

The latest statistics suggest that e cigarettes are as effective as any prescribed or commercial nicotine replacement therapy as an aid to quit smoking.