Cherry Sherbet Shortfill E Liquid 50ml by OMVG
Shipping:
£2.99 (Fixed Shipping Cost)
VG Juice Mix:
70% VG / 30% PG
Nicotine Strength:
0 Mg Nicotine
Bottle Size:
1 x 50ml (Short Fill)
E Liquid Type:
Nicotine Free
Spend £25 or more for FREE DELIVERY
&nbsp
Cherry Sherbet E Liquid 50ml by OMVG
If you're looking for something fruity, fun and more than a little bit cheeky the OMVG Cherry Sherbet Short Fill High VG E Liquid is the one for you. A sweet yet fruity vape, this flavour offers a clever mix of sweet sherbert and dark, fruity cherry tone, all of which merge beautifully to produce this fizzy fun flavour. Produced using the highest grade of ingredients, thanks to instructions from OMVG to never cut corners on quality, this high VG e liquid is proving very popular for a number of reasons.

Glorious flavour filled big vape clouds are the joy of sub ohm vaping fans and cloud chasers alike, and this ejuice offers all of this and more.

Being a shortfill e liquid you receive a bottle with OMVG Cherry Sherbet zero nicotine e liquid with enough space left (hence the name short fill) to tip in a shot of nicotine of your choice. This is the perfect way for you to take control of the strength level of your e liquid while still enjoying OMVG's famous flavours.

The real mystery when it comes to this e liquid is not how the clever mixologists produce such wonderful flavours, or why this is a favourite with so many people; the real question is how can we offer all of this at such an affordable price? Don't overthink it, just enjoy all of the benefits this fabulous OMVG Cherry Sherbet e liquid offers.

If this particular flavour isn't for you check out our other OMVG High VG e liquids. With a wide range of high quality flavours to choose from you'll be spoilt for choice!
FREE NICOTINE SHOT WITH THIS SHORT FILL E LIQUID TO MAKE 60ML E LIQUID
This is a UK made short fill e liquid that is available in a single 60ml bottle. If you add the FREE NICOTINE BOOSTER and add it to the 50ml of eliquid, this will make a 60ml e liquid of 3mg Nicotine strength.
Available in: 1 x 60ML Bottle with 50ml of e liquid (Zero Nicotine)
Please Note: Adding 1 x Nicotine Booster (18mg) to this bottle and shaking it will make this e liquid into approximately 3mg Nicotine Strength
VG/PG RATIO
VG 70% / PG 30%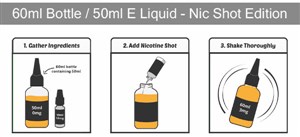 We only ship orders to UK and operate a Same Day Dispatch (99% of the time, sometimes delays may occur) on all orders placed before 4pm on working days (Monday to Friday excluding weekends & Bank Holidays). Any orders placed after 4pm cut off on weekdays (Monday to Friday) or over weekends, will be dispatched the next WORKING day. We do not dispatch goods over weekends or bank holidays and do not offer delivery on Bank Holidays.
When you place an order, we will estimate a delivery date for you based on the shipping method you have chosen. This is an estimation only and is not guaranteed delivery date. All orders are shipped in discreet packaging.
You may return most new unopened items (excluding e liquids) within 14 days of delivery for a full refund excluding our postage costs we have incurred. We'll also pay the return shipping costs if the return is a result of our error (you received an incorrect item etc.). If the item is reported as defective, we will check item for issue/fault before deeming it faulty.
You should expect to receive your refund within 7 working days of the return arriving with us and being deemed faulty, however, in many cases you will receive a refund more quickly. This time period includes the product testing and the time it takes your bank to process our refund request (3 to 5 working days).
If you need to return an item, please Contact Us with your order number and details about the product you would like to return. We will respond quickly with instructions for how to return items from your order.
Customer Reviews
This Product has 1 review