Strawberry Watermelon Shortfill E Liquid 50ml by OMVG
Brand: OMVG
1 product review
Product Description
Product Reviews
Strawberry Watermelon E Liquid 50ml by OMVG
In our opinion the watermelon doesn't get the recognition it deserves which is why we are pleased to see its sweet and juicy awesomeness featured alongside earthy, sweet and tangy strawberries in the OMVG Strawberry and Watermelon Short Full High VG e liquid. You wouldn't normally couple these flavours together however we're very glad the OMVG mixologists thought to give it a try as the end result is an incredible tasty vape that's fruity enough to make your taste buds dance yet cool enough to make it a perfect everyday vape and suitable for day or night vaping.

As a shortfill e liquid you may also take back the decision over which nicotine strength you want to enjoy by filling the gap in the short fill bottle with your own strength of nicotine and mixing to create a fabulously flavour vaping liquid that is as unique as you are.

If that's not enough this OMVG Strawberry and Watermelon e liquid is ticking all of the big vape cloud boxes. Whether you are a flavour fan, a cloud chaser or someone who wants it all, you're in the right place with us.

If this particular flavour isn't for you check out our other OMVG High VG e liquids. With a wide range of high quality flavours to choose from you'll be spoilt for choice!
FREE NICOTINE SHOT WITH THIS SHORT FILL E LIQUID TO MAKE 60ML E LIQUID
This is a UK made short fill e liquid that is available in a single 60ml bottle. If you add the FREE NICOTINE BOOSTER and add it to the 50ml of eliquid, this will make a 60ml e liquid of 3mg Nicotine strength.
Available in: 1 x 60ML Bottle with 50ml of e liquid (Zero Nicotine)
Please Note: Adding 1 x Nicotine Booster (18mg) to this bottle and shaking it will make this e liquid into approximately 3mg Nicotine Strength
VG/PG RATIO
VG 70% / PG 30%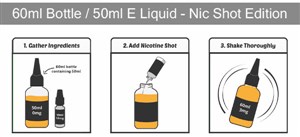 Other Details
VG Juice Mix:
70% VG / 30% PG
Nicotine Strength:
0 Mg Nicotine
Bottle Size:
1 x 50ml (Short Fill)