Strawberry Kiwi Bubble Gum Shortfill E Liquid 50ml by OMVG
Brand: OMVG
1 product review
Product Description
Product Reviews
Strawberry Kiwi Bubble Gum E Liquid 50ml by OMVG
It's sweet, it's cheeky, it's none other than the OMVG Strawberry Kiwi Bubble Gum High VG e liquid. Two popular and somewhat earthy fresh fruits tones, strawberry and kiwi merge beautifully together alongside the curiously moreish bubble gum sweetness we know and love. The result of this mix is a sweet, mellow and candy-like vape flavour that ticks all of the boxes for those with a sweet tooth and an appreciation for a high end, sweet fruity vape.

With a high VG to PG ratio the OMVG Strawberry and Kiwi e liquid is perfect for those of you who are looking for some seriously big vape cloud action. Sub ohm vapers and dripping liquid enthusiasts are also going to love having this e liquid in their collection.
Between the skill of the OMVG mixologist and the company's insistence on the best grade ingredients being use these flavours come across loud, clear and incredibly tasty.

This is also a shortfill e liquid. That means that you receive a bottle (with a space left in the top) of zero nicotine e liquid infused with the strawberry and kiwi bubble gum flavours that are so sought after. You may then fill the gap if wished with a nicotine shot of your choice, customising the throat hit and the end flavour of each draw to suit your individual needs.

If you haven't tried the OMVG Strawberry and Kiwi Bubble Gum Short Fill High VG e liquid, now is the time. With prices as affordable as these can you afford not to?

If this particular flavour isn't for you check out our other OMVG High VG e liquids. With a wide range of high quality flavours to choose from you'll be spoilt for choice!
FREE NICOTINE SHOT WITH THIS SHORT FILL E LIQUID TO MAKE 60ML E LIQUID
This is a UK made short fill e liquid that is available in a single 60ml bottle. If you add the FREE NICOTINE BOOSTER and add it to the 50ml of eliquid, this will make a 60ml e liquid of 3mg Nicotine strength.
Available in: 1 x 60ML Bottle with 50ml of e liquid (Zero Nicotine)
Please Note: Adding 1 x Nicotine Booster (18mg) to this bottle and shaking it will make this e liquid into approximately 3mg Nicotine Strength
VG/PG RATIO
VG 70% / PG 30%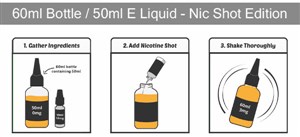 Other Details
VG Juice Mix:
70% VG / 30% PG
Nicotine Strength:
0 Mg Nicotine
Bottle Size:
1 x 50ml (Short Fill)