Pink Dude Shortfill E Liquid 50ml by OMVG
Brand: OMVG
1 product review
Product Description
Product Reviews
Pink Dude E Liquid 50ml by OMVG
If you're looking for a sweet and mild VG juice look away as the OMVG Pink Dude High VG e liquid is anything but meek and mild. What we have here is an intensely flavourful e juice brimming with orange, lemon and grapefruit flavour strands so real that you'd be forgiven for thinking that you've fallen asleep and woken up in a tropical fruit bar. This is one truly energetic combination of flavours. We can only imagine that the OMVG mixologists had an absolute blast putting this one together!

What's more, not only do we have here some serious citrus-powered flavoured, we have a delivery system that also packs a punch. All of the OMVG UK made e liquids are proudly created using the very best grade ingredients which means that the e liquid base, in this case the 70%/30% VG/PG Pink Dude eliquid base, creates some seriously awesome big vape clouds.

If you're new to cloud chasing, big cloud vaping, or any of the other cool names that mean the same thing, all you need to imagine is a vapour so thick, full, smooth and infused with fabulous flavour that you truly believe that you could float away on it. Seriously, this VG liquid is THAT good. Those of you into your big cloud fun will no doubt find this an excellent sub ohm e liquid too.

If you are looking to shake things up a bit, to breathe new life into your e liquid collection and to give your self a real treat, the the OMVG Pink Dude High VG e liquid should tick all of these boxes for you, and offer you much more besides. Enjoy!
If this particular flavour isn't for you check out our other OMVG High VG e liquids. With a wide range of high quality flavours to choose from you'll be spoilt for choice!
FREE NICOTINE SHOT WITH THIS SHORT FILL E LIQUID TO MAKE 60ML E LIQUID
This is a UK made short fill e liquid that is available in a single 60ml bottle. If you add the FREE NICOTINE BOOSTER and add it to the 50ml of eliquid, this will make a 60ml e liquid of 3mg Nicotine strength.
Available in: 1 x 60ML Bottle with 50ml of e liquid (Zero Nicotine)
Please Note: Adding 1 x Nicotine Booster (18mg) to this bottle and shaking it will make this e liquid into approximately 3mg Nicotine Strength
VG/PG RATIO
VG 70% / PG 30%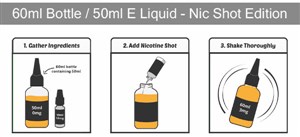 Other Details
VG Juice Mix:
70% VG / 30% PG
Nicotine Strength:
0 Mg Nicotine
Bottle Size:
1 x 50ml (Short Fill)