Lemon Tart Shortfill E Liquid 50ml by OMVG
Brand: OMVG
1 product review
Product Description
Product Reviews
Lemon Tart E Liquid 50ml by OMVG
Our OMVG Lemon Tart High VG E Liquid is one of those flavours that should most definitely be at the very front of your e liquid box. It has it all flavour-wise, from the tart lemon to the biscuit tones (you can almost feel yourself biting into a biscuit base!) and subtle sweetness that pulls everything together with creamy undertones. This may not be one of those e juice flavours that knock you off your feet however it one of the most enjoyable, pleasant, memorable and altogether just downright scrummy flavours we have had the pleasure to stock. Being a high VG e liquid, which means that it boasts a 70%/30% VG to PG mix, this mouth-watering dessert flavour is delivered via some impressively big vape clouds. Used as a sub ohm e liquid you could enjoy bigger clouds still!

Thanks to OMVG being committed to using the finest pharmaceutical grade e juice ingredients available you may be sure that when choosing the OMVG Lemon Tart High VG e liquid that you are choosing a proudly UK made e liquid that ticks all of the boxes. Perfect for enjoyment at any time of the day and night, you really can have your cake, or tart, and eat it, or rather vape it, without any calorie-related guilt whatsoever. 100% pleasure is all we want at Go Smoke Free and this OMVG eliquid is a perfect way to achieve that.

If this particular flavour isn't for you check out our other OMVG High VG e liquids. With a wide range of high quality flavours to choose from you'll be spoilt for choice!
FREE NICOTINE SHOT WITH THIS SHORT FILL E LIQUID TO MAKE 60ML E LIQUID
This is a UK made short fill e liquid that is available in a single 60ml bottle. If you add the FREE NICOTINE BOOSTER and add it to the 50ml of eliquid, this will make a 60ml e liquid of 3mg Nicotine strength.
Available in: 1 x 60ML Bottle with 50ml of e liquid (Zero Nicotine)
Please Note: Adding 1 x Nicotine Booster (18mg) to this bottle and shaking it will make this e liquid into approximately 3mg Nicotine Strength
VG/PG RATIO
VG 70% / PG 30%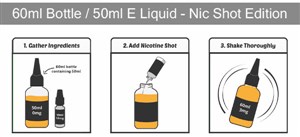 Other Details
VG Juice Mix:
70% VG / 30% PG
Nicotine Strength:
0 Mg Nicotine
Bottle Size:
1 x 50ml (Short Fill)