Smoking costs a lot. First of all there's the fact that cigarettes have risen sharply in cost in recent years. We're well aware of the costs to health of smoking, both personally and to the NHS. Have you consider however the cost of smoking on the environment?
Keep Britain Tidy, the UK environmental organisation, have stated that of all the rubbish types in the UK it's the cigarette butt that's making the most mess, being the most littered item in England. This is a widespread problem, with only 1% of towns reporting no smoking-related litter. Clearly, this is a larger problem than some would suspect.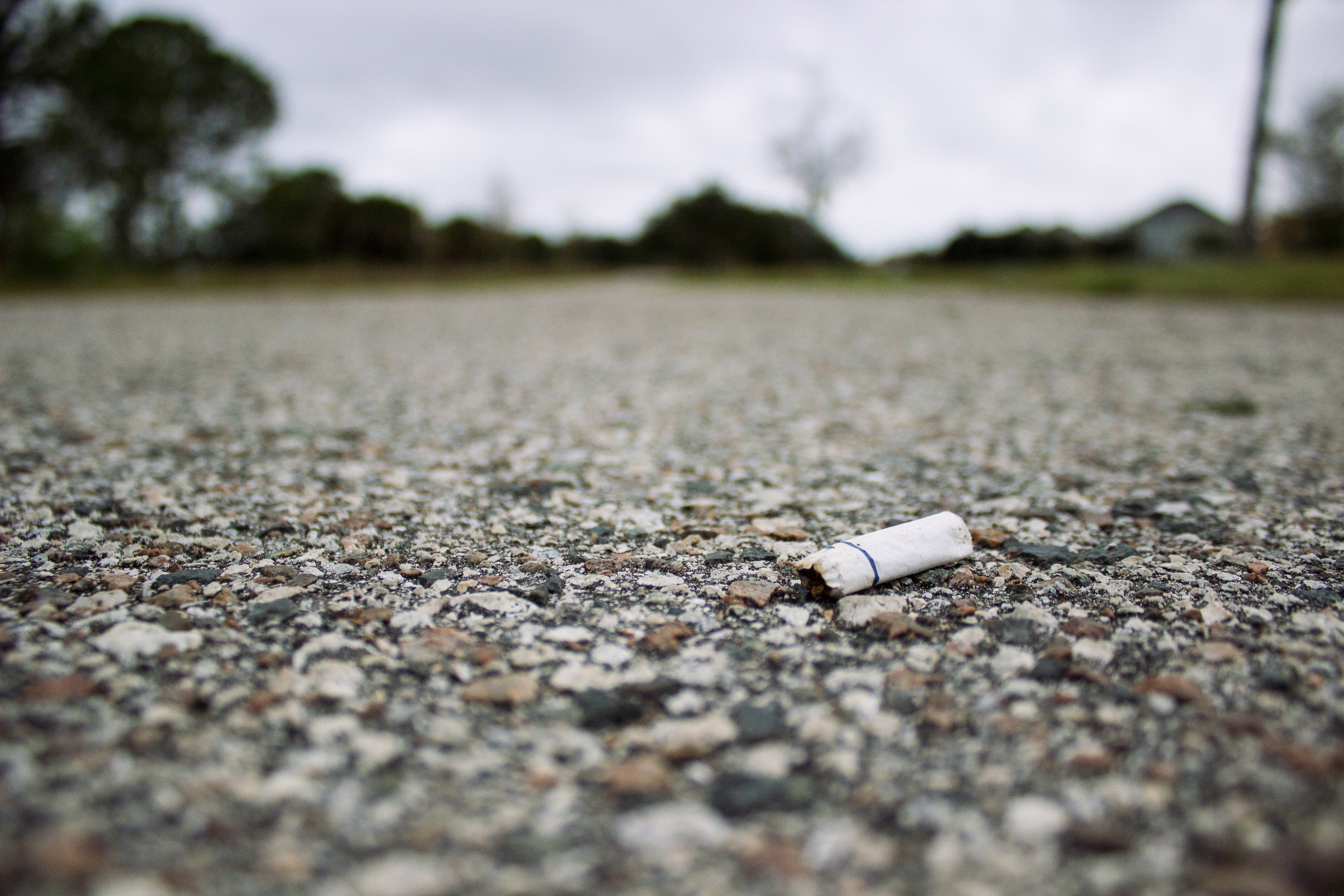 Given that over seven million adults in the UK are still smoking, the amount of smoking-related litter is substantial. Thankfully statistics from Public Health England show that smoking numbers are falling, with a huge drop in numbers of 15% since 2015. Will the fact that less people are smoking make a big impact on the amount of smoking-related litter? We can but hope!
Over two hundred and forty four million cigarette butts per year are estimated to be dropped, and that's just in the UK. That means that a third of all of the litter dropped is related to tobacco smoking, Quite frankly, that's appalling!
Clearly smoking-related littering is a big issue, as the LEQSE (Local Environmental Quality Survey) recorded results in 2015 which show that on average each site that they surveyed had 7.1 cigarette butts dropped on it. That's a significant amount! The study also confirmed that a higher volume of cigarette-related litter was found on industrial areas, areas with high foot traffic from the public (i.e. parks, shopping areas and so on) and many built-up housing areas.
The attitudes to smoking-related littering is also concerning, with a survey by Keep Britain Tidy showing that in general cigarette butt litter was considered by some to be "not as bad" as other types of littering. The study results went so far as to state that many questioned would not drop "ordinary" litter outdoors, such as food wrappers however would, had, and would likely continue to drop cigarette butts.
How Much is Smoking Costing?
The cost of cigarette smoking is not something smokers pay alone! Over a billion pounds is spent in Britain alone, cleaning up litter in public streets and on roads. This is most definitely money that would be better spent elsewhere, if littering wasn't such a problem.
Even greater, many would say, is the cost to the environment. Cigarette butts contain a frightening number of chemicals, including arsenic, lead and other toxic ingredients which are extremely harmful to wildlife and humans alike.
Cigarettes butts are non-biodegradable so don't break down as quickly as many materials do. The process might actually take as long as twelve years! During this process chemicals that are harmful to the planet and living creatures are released.
So, they look bad, smell bad, cost a fortune in clean-up duty and ruin our environment. We'd say the cost of smoking was high indeed, and that's before you consider the nearly £14 billion cost to the NHS that smoking is directly responsible for.
Cutting the Cost
It might seem pretty obvious to some but clearly not to everyone. The two main ways to cut the cost of smoking is to give up or to switch to vaping, both of which benefit health, your budget and clearly, the environment. If these statistics make you want to trade in your cigarette for an electronic cigarette, good for you! The more that make the change, the lower the cost of smoking falls, and we think that we can all agree that the money spent on smoking-related illness and environmental damage, could be put to good use elsewhere.