Fizzy Blackcurrant Shortfill E Liquid 50ml by OMVG
Brand: OMVG
1 product review
Product Description
Product Reviews
Fizzy Blackcurrant E Liquid 50ml by OMVG
If fabulous flavours and a really fruity treat is what you are looking for the OMVG Fizzy Blackcurrant Short Fill High VG E Liquid could be right up your street. As a short fill e liquid you may completely customise the nicotine strength of this fabulous earthy blackcurrant flavoured zero nicotine e liquid by tipping a shot of your own nicotine into the bottle. Sweet yet tart, fruity and fresh, this is one e liquid that really benefits from allowing you to get the nicotine strength just right so that it ticks each and every enjoyment box.

OMVG have really gone all out with the OMVG Fizzy Blackcurrant Short Fill High VG E Liquid as the 70% VG / 30% PG base enables you to enjoy this wonderfully fruity tasting e liquid vapour via some seriously big vape cloud action, especially if you are a sub ohm vaper. A good all-rounder, this e liquid appeals to dripping liquid fans and those whose vaping mission is to enjoy the very best flavours without fuss.

Not of this enjoyment would be possible of course if it wasn't for OMVG's insistence on their mixologists using the very finest ingredients in each and every batch of e liquid alongside cutting edge processes in all of their manufacturing. Anyone may throw an e liquid together in a bucket, few can create an e juice of this calibre, yet OMVG make it appear easy.

If a fruity, fizzy and fabulously customisable vape that may be enjoyed at any time of the day or night is what you are looking for, look no further.

If this particular flavour isn't for you check out our other OMVG High VG e liquids. With a wide range of high quality flavours to choose from you'll be spoilt for choice!
FREE NICOTINE SHOT WITH THIS SHORT FILL E LIQUID TO MAKE 60ML E LIQUID
This is a UK made short fill e liquid that is available in a single 60ml bottle. If you add the FREE NICOTINE BOOSTER and add it to the 50ml of eliquid, this will make a 60ml e liquid of 3mg Nicotine strength.
Available in: 1 x 60ML Bottle with 50ml of e liquid (Zero Nicotine)
Please Note: Adding 1 x Nicotine Booster (18mg) to this bottle and shaking it will make this e liquid into approximately 3mg Nicotine Strength
VG/PG RATIO
VG 70% / PG 30%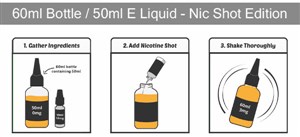 Other Details
VG Juice Mix:
70% VG / 30% PG
Nicotine Strength:
0 Mg Nicotine
Bottle Size:
1 x 50ml (Short Fill)