Product Description
Product Reviews
Blue Slush E Liquid 50ml by OMVG
The OMVG Blue Slush Short Fill High VG e Liquid is as much loved for its awesome fruity flavours as it is for its ability to be customised. By customised we're talking about you being able to add 10ml of nicotine to each 50ml bottle (called short fill as space is left in the bottle for you to add that nicotine shot) which means that you have the option to make your favourite high VG e juice into an electronic cigarette liquid which has exactly the right amount of nicotine for you. For us, that's what vaping is all about, being able to customise your vaping hobby to enjoy new flavours, strengths and more.

One of our more popular flavours the OMVG Blue Slush Short Fill High VG e Liquid mixes blueberry with a cool fresh taste with sweet but fruity raspberry undertones, not unlike the blue fruity slushy ice drink its name reminds us of. Now, anyone can throw together a zero nicotine e liquid if they have the vape liquid base ingredients and some flavourings. The point is that not anyone has put this e liquid together, OMVG has. OMVG are very strict when it comes to insisting on a very high level of professional care and attention when it comes to each and every batch. The best quality ingredients are used for all OMVG e liquids and with these high VG vapes juices you can really tell the difference. Perfect for use as a dripping liquid, for sub ohm e juice liquids and of course for some seriously impressive big vape clouds.

If you're a fruity fiend, love some roll over the tongue flavours that have your taste buds dancing and your senses begging for more, this OMVG Blue Slush Short Fill High VG e Liquid could be just the thing for you.

If this particular flavour isn't for you check out our other OMVG High VG e liquids. With a wide range of high quality flavours to choose from you'll be spoilt for choice!
FREE NICOTINE SHOT WITH THIS SHORT FILL E LIQUID TO MAKE 60ML E LIQUID
This is a UK made short fill e liquid that is available in a single 60ml bottle. If you add the FREE NICOTINE BOOSTER and add it to the 50ml of eliquid, this will make a 60ml e liquid of 3mg Nicotine strength.
Available in: 1 x 60ML Bottle with 50ml of e liquid (Zero Nicotine)
Please Note: Adding 1 x Nicotine Booster (18mg) to this bottle and shaking it will make this e liquid into approximately 3mg Nicotine Strength
VG/PG RATIO
VG 70% / PG 30%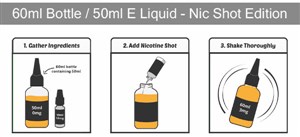 Other Details
VG Juice Mix:
70% VG / 30% PG
Nicotine Strength:
0 Mg Nicotine
Bottle Size:
1 x 50ml (Short Fill)