Blue Raspberry Slush Shortfill E Liquid 50ml by OMVG
Brand: OMVG
1 product review
Product Description
Product Reviews
Blue Raspberry Slush E Liquid 50ml by OMVG
An incredibly popular flavour, the OMVG Blue Raspberry Slush High VG Short Fill e Liquid is cool, fresh and incredibly fruity. Raspberry and blueberry combine, offering a sweet raspberry treat that is complemented by the tart blueberry essence. If you love the blue slush flavoured ice drinks of the same name, this e liquid produces thick and full vape clouds that taste just like that, only without the brain freeze!

Talking of big vape clouds, if cloud chasing is your thing this could definitely be just the ejuice for you as this is a high VG e liquid and as such is perfect for helping you produce some seriously good flavour infused vape clouds. Popular with dripping liquid enthusiasts, sub ohm vapers and even those starting out on the road to vape cloud experimentation; high VG is clearly the way to go.

Being a short fill e liquid you will find that each bottle of OMVG Blue Raspberry Slush contains nicotine free e liquid and a gap, or space at the top of the bottle ready and waiting for you to add your own nicotine shot, at whatever strength level you prefer. This is the perfect way to enjoy your favourite flavours at whatever nicotine level works best for you.

Clearly this e juice ticks a lot of boxes and none of that would have been possible were it not for the head honchos at OMVG headquarters being rigid about only using the best ingredients in batch, using the most up to date manufacturing processes and clearly employing the most creative e liquid mixologists.

If this particular flavour isn't for you check out our other OMVG High VG e liquids. With a wide range of high quality flavours to choose from you'll be spoilt for choice!
FREE NICOTINE SHOT WITH THIS SHORT FILL E LIQUID TO MAKE 60ML E LIQUID
This is a UK made short fill e liquid that is available in a single 60ml bottle. If you add the FREE NICOTINE BOOSTER and add it to the 50ml of eliquid, this will make a 60ml e liquid of 3mg Nicotine strength.
Available in: 1 x 60ML Bottle with 50ml of e liquid (Zero Nicotine)
Please Note: Adding 1 x Nicotine Booster (18mg) to this bottle and shaking it will make this e liquid into approximately 3mg Nicotine Strength
VG/PG RATIO
VG 70% / PG 30%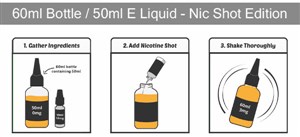 Other Details
VG Juice Mix:
70% VG / 30% PG
Nicotine Strength:
0 Mg Nicotine
Bottle Size:
1 x 50ml (Short Fill)
Write Review
Quality VG e-juice

Posted by stephen jones on 12th Oct 2018

Raspberry slush, YUMMY , this for me is a bit special , I love raspberry mmm , you have to buy this one , mouth watering , this one is like the blackcurrant doesn't like high wattage, normally slush is cold, so for me 80 watts, the OMVG are good on coils but keep wattage below 100, the raspberry taste can easily get spoilt, personally I would put this first on your G-Smoke shopping list