Blackcurrant Menthol Shortfill E Liquid 50ml by OMVG
Product Description
Product Reviews
Blackcurrant Menthol E Liquid 50ml by OMVG
If you're craving a fruity vape with a kick the OMVG Blackcurrant Menthol offers all of that and much more besides. We're not ones to exaggerate here at Go Smoke Free, we don't need to, as we find that the e liquids do all the talking. That said, this is one of our favourite high VG vapes. There's something special about the dark, berry flavour of the blackcurrant mixed with the cool, fresh menthol. These flavours shouldn't work so well together but they do. Produced using the highest pharmaceutical grade e juice ingredients and cutting edge processes, the OMVG Blackcurrant Menthol is one of those vape flavours which ticks all of the boxes.

If you're looking for high quality, incredibly tasty high VG e liquids that produce out of this world big vape clouds, you've come to the right place.

If this particular flavour isn't for you check out our other OMVG High VG e liquids. With a wide range of high quality flavours to choose from you'll be spoilt for choice!
FREE NICOTINE SHOT WITH THIS SHORT FILL E LIQUID TO MAKE 60ML E LIQUID
This is a UK made short fill e liquid that is available in a single 60ml bottle. If you add the FREE NICOTINE BOOSTER and add it to the 50ml of eliquid, this will make a 60ml e liquid of 3mg Nicotine strength.
Available in: 1 x 60ML Bottle with 50ml of e liquid (Zero Nicotine)
Please Note: Adding 1 x Nicotine Booster (18mg) to this bottle and shaking it will make this e liquid into approximately 3mg Nicotine Strength
VG/PG RATIO
VG 70% / PG 30%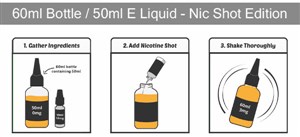 Other Details
VG Juice Mix:
70% VG / 30% PG
Nicotine Strength:
0 Mg Nicotine
Bottle Size:
1 x 50ml (Short Fill)