Banana Milkshake Shortfill E Liquid 50ml by OMVG
Product Description
Product Reviews
Banana Milkshake E Liquid 50ml by OMVG
The OMVG Banana Milkshake High VG Short Fill e Liquid ticks so many boxes for excellence that we don't know whether to vape it or give it a medal! Creamy, fresh and unbelievably fruity, you would be forgiven for thinking you really did have a classic banana milkshake in front of you, rather than an e cigarette loaded with this OMVG banana milkshake flavour. It really is perfect for use at any time of the day or night, and fresh and fun enough that many people decide to use it as their main everyday flavour.

Being a shortfill e liquid, the OMVG Banana Milkshake High VG Short Fill e juice contains zero nicotine e liquid, ripe and ready for you to add your own nicotine shot into the gap left in the bottle for that very purpose. This allows you to completely customise the nicotine strength and therefore your enjoyment of what we are sure will very soon be one of your, if not your favourite e liquids.

To add an extra layer of awesomeness, try and imagine enjoying the roll over the tongue creamy taste of this e liquid via a thick, full and smooth big vape cloud. Now load it up into your device and imagine no more! This is a high VG e liquid too, with a 70% VG to 30% PG base which makes it perfect for sub ohm vaping, cloud chasing or for those looking for a new dripping liquid.

All of this has been made possible thanks to OMVG employing geniuses (incredibly skilled mixologists) and supplying them with the very best ingredients to work with. Their investment in quality has certainly paid off, judging by how popular the OMVG high VG short fill e liquids have proven to be.

If this particular flavour isn't for you check out our other OMVG High VG e liquids. With a wide range of high quality flavours to choose from you'll be spoilt for choice!
FREE NICOTINE SHOT WITH THIS SHORT FILL E LIQUID TO MAKE 60ML E LIQUID
This is a UK made short fill e liquid that is available in a single 60ml bottle. If you add the FREE NICOTINE BOOSTER and add it to the 50ml of eliquid, this will make a 60ml e liquid of 3mg Nicotine strength.
Available in: 1 x 60ML Bottle with 50ml of e liquid (Zero Nicotine)
Please Note: Adding 1 x Nicotine Booster (18mg) to this bottle and shaking it will make this e liquid into approximately 3mg Nicotine Strength
VG/PG RATIO
VG 70% / PG 30%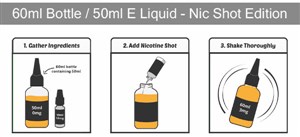 Other Details
VG Juice Mix:
70% VG / 30% PG
Nicotine Strength:
0 Mg Nicotine
Bottle Size:
1 x 50ml (Short Fill)