Peach Lemonade Shortfill E Liquid 50ml by OMVG
Product Description
Product Reviews
Peach Lemonade E Liquid 50ml by OMVG
The OMVG Peach Lemonade High VG e liquid is one of those incredible tasting e liquids that rolls over the tongue and fills your senses in the most pleasing way. Sweet, juicy peach mixes brilliantly with the sharp yet sweet traditional lemonade flavours to produce an e liquid that is as moreish as it is satisfying. A special treat you may enjoy day or night or even make your everyday stock favourite, this OMVG Peach Lemonade e liquid has it all!

We aren't exaggerating. As a short fill e liquid and a high VG e juice this OMVG Peach Lemonade really does offer a vast number of benefits. As a shortfill you have the ability to choose the nicotine level/strength of your vape by topping up the zero nicotine e liquid bottle with nicotine shots of your choice. The TDP regulations that came into force in May 2017 mean that retailers have a cap on the amount of nicotine they may sell in an e liquid. Short fill e liquids put this control back in the hands of the vaper.

As a high VG e liquid made, at OMVG's insistence, with the finest high-grade e liquid ingredients this e liquid offers you some seriously impressive big vape clouds, and that's just with a regular e cigarette device. Imagine what you could do with a sub ohm mod……

If you're looking for natural sweetness and out of this world vaping, you're in the right place here.

If this particular flavour isn't for you check out our other OMVG High VG e liquids. With a wide range of high quality flavours to choose from you'll be spoilt for choice!
FREE NICOTINE SHOT WITH THIS SHORT FILL E LIQUID TO MAKE 60ML E LIQUID
This is a UK made short fill e liquid that is available in a single 60ml bottle. If you add the FREE NICOTINE BOOSTER and add it to the 50ml of eliquid, this will make a 60ml e liquid of 3mg Nicotine strength.
Available in: 1 x 60ML Bottle with 50ml of e liquid (Zero Nicotine)
Please Note: Adding 1 x Nicotine Booster (18mg) to this bottle and shaking it will make this e liquid into approximately 3mg Nicotine Strength
VG/PG RATIO
VG 70% / PG 30%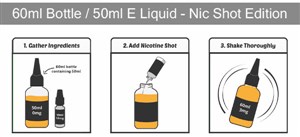 Other Details
VG Juice Mix:
70% VG / 30% PG
Nicotine Strength:
0 Mg Nicotine
Bottle Size:
1 x 50ml (Short Fill)