Product Description
Product Reviews
Neon Slush E Liquid 50ml by OMVG
When we first saw the Neon Slush part of the OMVG Neon Slush High VG e Liquid heading on our order sheet we thought "Cool, another "tutti fruity" flavour". No, we were wrong. Neon Slush is something completely unique and we're very excited about it.

Imagine blowing lemon and lime flavoured bubbles that when popped give you a flash of cool menthol freshness. That pretty much exactly sums up the Neon Slush vaping experience. Of course, we must give mention to the fact that with these UK made e liquid from OMVG that sport a generous 70%/30% VG/PG base you are experiencing a high VG e liquid and that means big vape clouds aplenty. All of the ripe and juicy flavours from your favourite two citrus fruits alongside a cool, fresh and slightly sweet menthol combined artfully in thick, full, smooth and almost other-worldly vape clouds. It's pretty clear to see why this vape juice is proving so popular.

The reason you experience the awesome high VG vape liquid clouds this way is primarily down to the fact that OMVG insist on using the best ingredients available as well as keeping abreast of cutting edge developments in e liquid manufacturing, ensuring that your vape experience really is the very best it may be.

Not convinced? At this price you can afford to make a gamble. We're pretty sure you'll consider yourself a winner as soon as you've taken your first draw.
If this particular flavour isn't for you check out our other OMVG High VG e liquids. With a wide range of high quality flavours to choose from you'll be spoilt for choice!
FREE NICOTINE SHOT WITH THIS SHORT FILL E LIQUID TO MAKE 60ML E LIQUID
This is a UK made short fill e liquid that is available in a single 60ml bottle. If you add the FREE NICOTINE BOOSTER and add it to the 50ml of eliquid, this will make a 60ml e liquid of 3mg Nicotine strength.
Available in: 1 x 60ML Bottle with 50ml of e liquid (Zero Nicotine)
Please Note: Adding 1 x Nicotine Booster (18mg) to this bottle and shaking it will make this e liquid into approximately 3mg Nicotine Strength
VG/PG RATIO
VG 70% / PG 30%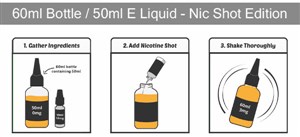 Other Details
VG Juice Mix:
70% VG / 30% PG
Nicotine Strength:
0 Mg Nicotine
Bottle Size:
1 x 50ml (Short Fill)