Lemon Fantasi Ice Shortfill E Liquid 50ml by OMVG
Product Description
Product Reviews
Lemon Fantasi Ice E Liquid 50ml by OMVG
If you liked the OMVG Lemon Fantasi e liquid and are looking for something with more of a kick you'll love the OMVG Lemon Fantasi Ice e juice. Take sweet lemonade, a cooling low mint menthol flavour, add an extra special chill and then add high VG magic and you will have described OMVG Lemon Fantasi Ice perfectly. Being a high VG e juice this is one of those Malaysian-style e liquids which is set up ready to help you drift away in big vape clouds infused with icy, sweet and citrusy goodness. You can tell from the very first draw that this is a vape that is perfect for any time of the day or night. Unsurprisingly many use it as their every day favourite.

If this particular flavour isn't for you check out our other OMVG High VG e liquids. With a wide range of high quality flavours to choose from you'll be spoilt for choice!
FREE NICOTINE SHOT WITH THIS SHORT FILL E LIQUID TO MAKE 60ML E LIQUID
This is a UK made short fill e liquid that is available in a single 60ml bottle. If you add the FREE NICOTINE BOOSTER and add it to the 50ml of eliquid, this will make a 60ml e liquid of 3mg Nicotine strength.
Available in: 1 x 60ML Bottle with 50ml of e liquid (Zero Nicotine)
Please Note: Adding 1 x Nicotine Booster (18mg) to this bottle and shaking it will make this e liquid into approximately 3mg Nicotine Strength
VG/PG RATIO
VG 70% / PG 30%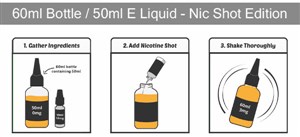 Other Details
VG Juice Mix:
70% VG / 30% PG
Nicotine Strength:
0 Mg Nicotine
Bottle Size:
1 x 50ml (Short Fill)