Product Description
Product Reviews
Fruit Mix E Liquid 50ml by OMVG
Imagine a bowl of the juiciest, most flavoursome fresh fruits and you'll almost be able to understand just how delicious the vapour this OMVG Fruit Mix e liquid produces is. Fresh, clear, tart, earthy and sweet. This fruit mix has it all. This isn't your usual run of the mill fruity treat; this is a high VG e juice which produces a moreish fruit-infused big vape cloud quite unlike anything you've ever tried before. Being a high VG e liquid this fabulously fruity combination will have sub ohm vapers and dripping liquid fans panting to get their hands on a bottle or three.

Produced with the highest grade ingredients and with the very best manufacturing processes, the OMVG Fruit Mix e liquid is one of our most popular high VG fruity eliquids. We can understand why!

If this particular flavour isn't for you check out our other OMVG High VG e liquids. With a wide range of high quality flavours to choose from you'll be spoilt for choice!
FREE NICOTINE SHOT WITH THIS SHORT FILL E LIQUID TO MAKE 60ML E LIQUID
This is a UK made short fill e liquid that is available in a single 60ml bottle. If you add the FREE NICOTINE BOOSTER and add it to the 50ml of eliquid, this will make a 60ml e liquid of 3mg Nicotine strength.
Available in: 1 x 60ML Bottle with 50ml of e liquid (Zero Nicotine)
Please Note: Adding 1 x Nicotine Booster (18mg) to this bottle and shaking it will make this e liquid into approximately 3mg Nicotine Strength
VG/PG RATIO
VG 70% / PG 30%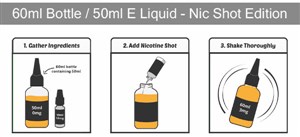 Other Details
VG Juice Mix:
70% VG / 30% PG
Nicotine Strength:
0 Mg Nicotine
Bottle Size:
1 x 50ml (Short Fill)