Product Description
Product Reviews
Devon Fudge E Liquid 50ml by OMVG
If you're looking for a guilt-free sweet treat that is both luxurious and satisfying, the OMVG Devon Fudge e liquid could be right up your street. Fudge is great, Devon Fudge is a cut above the rest and that is obvious from the very first draw. Delivered via a high VG e liquid sweet-toothed vapers have the pleasure of enjoying these sweet, earthy and creamy flavours via big vape clouds infused with flavour. If that's not enough to have you adding this flavour to your basket, what is?

Being high VG the OMVG Devon Fudge is perfect for sub ohm vaping and for those who value a thick, full vapour. Created by mixologists who clearly know their stuff and with the highest grade ingredients, this is another OMVG e liquid that vapers come back for time and time again.

If this particular flavour isn't for you check out our other OMVG High VG e liquids. With a wide range of high quality flavours to choose from you'll be spoilt for choice!
FREE NICOTINE SHOT WITH THIS SHORT FILL E LIQUID TO MAKE 60ML E LIQUID
This is a UK made short fill e liquid that is available in a single 60ml bottle. If you add the FREE NICOTINE BOOSTER and add it to the 50ml of eliquid, this will make a 60ml e liquid of 3mg Nicotine strength.
Available in: 1 x 60ML Bottle with 50ml of e liquid (Zero Nicotine)
Please Note: Adding 1 x Nicotine Booster (18mg) to this bottle and shaking it will make this e liquid into approximately 3mg Nicotine Strength
VG/PG RATIO
VG 70% / PG 30%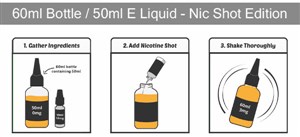 Other Details
VG Juice Mix:
70% VG / 30% PG
Nicotine Strength:
0 Mg Nicotine
Bottle Size:
1 x 50ml (Short Fill)