Product Description
Product Reviews
Cool Grape E Liquid 50ml by OMVG
Woah, when it comes to flavour sensations the OMVG Cool Grape E Liquid certainly packs a punch. The vapour this fine e juice produces reminds all of us here at Go Smoke Free of grape pop drinks, or grape soda. Fruity, tart and sweet all at the same time. If you like a little pop, whizz and bang in your e liquid you're in the right place with this flavour. Produced using the highest pharmaceutical grade e liquid ingredients you can tell that this is a quality brand from the very first draw. It's the high VG base though that takes an awesome flavour and turns it into an epic big vape cloud infused with pure grape-flavoured joy.

High VG e liquids are often sought out by sub ohm vapers looking for their next cloud chasing experience and with the OMVG Cool Grape E Liquid they will most definitely find what they've been seeking. From dripping liquid to sub ohm favourite, this is another OMVG high end e juice with an affordable price that ticks all of the quality and enjoyment boxes.

If this particular flavour isn't for you check out our other OMVG High VG e liquids. With a wide range of high quality flavours to choose from you'll be spoilt for choice!
FREE NICOTINE SHOT WITH THIS SHORT FILL E LIQUID TO MAKE 60ML E LIQUID
This is a UK made short fill e liquid that is available in a single 60ml bottle. If you add the FREE NICOTINE BOOSTER and add it to the 50ml of eliquid, this will make a 60ml e liquid of 3mg Nicotine strength.
Available in: 1 x 60ML Bottle with 50ml of e liquid (Zero Nicotine)
Please Note: Adding 1 x Nicotine Booster (18mg) to this bottle and shaking it will make this e liquid into approximately 3mg Nicotine Strength
VG/PG RATIO
VG 70% / PG 30%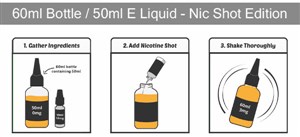 Other Details
VG Juice Mix:
70% VG / 30% PG
Nicotine Strength:
0 Mg Nicotine
Bottle Size:
1 x 50ml (Short Fill)