Product Description
Product Reviews
Cola Ice E Liquid 50ml by OMVG
The OMVG Cola Ice Short Fill High VG E Liquid is proving incredibly popular and it's easy to see why. Drink-like flavours do go down very well with our customers however this particular e juice favour brings something special to the table which is why it is flying off our shelves.

If you are looking for a classic cola tasting e juice you are in the right place. The clever mixologists responsible for putting this flavour together, alongside OMVG insisting on the use of premium pharmaceutical grade ingredients only is what makes this flavour so refreshing, so tasty and so moreish!

Being a short fill e liquid too, you have the option to take this zero nicotine e liquid and make it your own by filling the gap left in the bottle with your own nicotine shot at whatever strength level you desire. This is something that so many people love about vaping, it's all about helping you find the perfect vape for you.

Talking of perfect, the one thing that would make this fabulously fresh and tasty e liquid perfect would be if the flavour could be enjoyed via a large cola ice infused vapour cloud. Luckily for you, for sub ohm vapers and dedicated cloud chasers this high VG e liquid offers just that. With a 70% VG to 30% PG base big vape clouds are just a draw away.

If this particular flavour isn't for you check out our other OMVG High VG e liquids. With a wide range of high quality flavours to choose from you'll be spoilt for choice!
FREE NICOTINE SHOT WITH THIS SHORT FILL E LIQUID TO MAKE 60ML E LIQUID
This is a UK made short fill e liquid that is available in a single 60ml bottle. If you add the FREE NICOTINE BOOSTER and add it to the 50ml of eliquid, this will make a 60ml e liquid of 3mg Nicotine strength.
Available in: 1 x 60ML Bottle with 50ml of e liquid (Zero Nicotine)
Please Note: Adding 1 x Nicotine Booster (18mg) to this bottle and shaking it will make this e liquid into approximately 3mg Nicotine Strength
VG/PG RATIO
VG 70% / PG 30%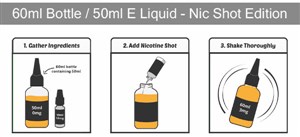 Other Details
VG Juice Mix:
70% VG / 30% PG
Nicotine Strength:
0 Mg Nicotine
Bottle Size:
1 x 50ml (Short Fill)