Blueberry Milkshake Shortfill E Liquid 50ml by OMVG
Product Description
Product Reviews
Blueberry Milkshake E Liquid 50ml by OMVG
One of our favourites here at GoSmokeFree HQ, the OMVG Blueberry Milkshake Short Fill High VG e Liquid is fresh, fruity and creamy. It really does tick all of the flavour boxes. The blueberry taste that merges so well with the creamy, slightly vanilla-flavoured base of this e juice flavouring is one which is earthy, sweet and yet a little sharp too. A roll over the tongue flavour that is mild enough to be your everyday vape yet fun enough to be one some might save for those times when a guilt-free sweet treat is in order.

OMVG's milkshake flavours fly off our shelves and with flavours like these it is easy to see why. The fact that this is a high VG e liquid as well as a shortfill e liquid doesn't hurt either.

Add your own shot of nicotine to the short fill bottle of zero nicotine e liquid in order to create a fabulously flavoured eliquid that is exactly the strength you want it to be, then sit back and enjoy some big vape cloud action thanks to the 70% VG base. The OMVG Blueberry Milkshake Short Fill High VG e Liquid really does offer you everything. This is why it is so popular with cloud chasers, dripping liquid fans, sub ohm vapers and those who are all about the flavour.

None of this would be possible if it weren't for OMVG's determination to create affordable e liquids using premium ingredients and cutting-edge production processes. You really can tell that OMVG go all out from the very first draw.

If this particular flavour isn't for you check out our other OMVG High VG e liquids. With a wide range of high quality flavours to choose from you'll be spoilt for choice!
FREE NICOTINE SHOT WITH THIS SHORT FILL E LIQUID TO MAKE 60ML E LIQUID
This is a UK made short fill e liquid that is available in a single 60ml bottle. If you add the FREE NICOTINE BOOSTER and add it to the 50ml of eliquid, this will make a 60ml e liquid of 3mg Nicotine strength.
Available in: 1 x 60ML Bottle with 50ml of e liquid (Zero Nicotine)
Please Note: Adding 1 x Nicotine Booster (18mg) to this bottle and shaking it will make this e liquid into approximately 3mg Nicotine Strength
VG/PG RATIO
VG 70% / PG 30%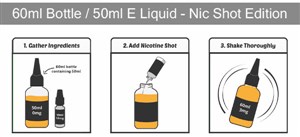 Other Details
VG Juice Mix:
70% VG / 30% PG
Nicotine Strength:
0 Mg Nicotine
Bottle Size:
1 x 50ml (Short Fill)