Blue Fruit Tart Shortfill E Liquid 50ml by OMVG
Product Description
Product Reviews
Blue Fruit Tart E Liquid 50ml by OMVG
Woah! If you're looking for a zero nicotine vape with the wow factor you need to be looking at the OMVG Blue Fruit Tart Short Fill High VG e Liquid. All of the OMVG shortfill e liquids are perfect for those looking to customise the strength of nicotine within their e juice. Basically, what you get is 50ml of zero nicotine e liquid with a space for you to fill up the bottle with a 10ml shot of nicotine of your choice. This enables you to choose what strength you want alongside which flavour and altogether makes these high VG vapour liquids as perfect as they can be for those who are looking for a vape that ticks all of the quality and fun boxes.

Blue Fruit Tart flavour is something that the mixologists at OMVG have excelled at, mixing various fruits and especially berries with something of dark yet incredibly enjoyable undertone that is hard to put your finger on (and OMVG aren't letting on as to what it is). Rarely will you see a flavour with some many fruit flavour strands that wind and intertwine so beautifully, producing a no nicotine vape that is truly out of this world.

With this particular short fill e liquid being a high VG e liquid it is worth noting this this type of e liquid is brilliant at producing a big vape cloud that is perfect for fans of vape cloud fun, making this a great sub ohm e juice as well as being perfectly suited to being a dripping liquid too. High VG OMVG vape e juice are brilliant for thick, full and flavoursome vapours and this is largely due to the fact that OMVG insist on the best grade ingredients being used in each and every batch. With the fabulous combination of flavours, OMVG's commitment to excellence and the ability to customise your nicotine usage, it's no wonder that this OMVG Blue Fruit Tart Short Fill High VG e Liquid is proving so popular.

If this particular flavour isn't for you check out our other OMVG High VG e liquids. With a wide range of high quality flavours to choose from you'll be spoilt for choice!
FREE NICOTINE SHOT WITH THIS SHORT FILL E LIQUID TO MAKE 60ML E LIQUID
This is a UK made short fill e liquid that is available in a single 60ml bottle. If you add the FREE NICOTINE BOOSTER and add it to the 50ml of eliquid, this will make a 60ml e liquid of 3mg Nicotine strength.
Available in: 1 x 60ML Bottle with 50ml of e liquid (Zero Nicotine)
Please Note: Adding 1 x Nicotine Booster (18mg) to this bottle and shaking it will make this e liquid into approximately 3mg Nicotine Strength
VG/PG RATIO
VG 70% / PG 30%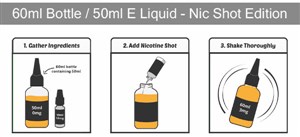 Other Details
VG Juice Mix:
70% VG / 30% PG
Nicotine Strength:
0 Mg Nicotine
Bottle Size:
1 x 50ml (Short Fill)