Caramel Custard Doughnut Shortfill E Liquid 50ml by OMVG
Product Description
Product Reviews
Caramel Custard Doughnut E Liquid 50ml by OMVG
OMVG pulled out all of the stops when they put together the OMVG Caramel Custard Doughnut Short Fill High VG e Liquid. It ticks so many boxes, we're not sure where to start! The creamy, sweet vanilla custard and caramel tones merge beautifully with the dough base to create a luxurious roll over the tongue sweet treat without any of the guilt. The OMVG mixologists clearly went all out with this one as the flavours are so like the real thing you would struggle to tell them apart. The incredible flavour and thick, smooth vapour of this e juice is yours thanks to OMVG insisting that only the best grade ingredients go into each and every batch.

This is also a shortfill e liquid. What that means is that what you're actually receiving is a zero nicotine e liquid in a bottle with a gap in the top, leaving space for you to add a nicotine shot of your choice. This allows you to customise the nicotine strength of this fabulous flavour, making it the perfect vape for you.

Talking of perfect, this is a high VG e liquid which means that cloud chasers, sub ohm vapers and dripping liquid fans may rejoice. With a 70% VG to 30% PG base, this eliquid offers smooth, full, big vape clouds infused with flavour. This truly is one of those e liquids that so many love for some many reasons, and we can't say that we blame them to be honest. Perfect for an everyday vape or one for any time of the day or night, or even to keep for those times when you want to sit back and enjoy some sweet luxury, the OMVG Caramel Custard Short Fill High VG e Liquid is as versatile as it is delicious.

If this particular flavour isn't for you check out our other OMVG High VG e liquids. With a wide range of high quality flavours to choose from you'll be spoilt for choice!
FREE NICOTINE SHOT WITH THIS SHORT FILL E LIQUID TO MAKE 60ML E LIQUID
This is a UK made short fill e liquid that is available in a single 60ml bottle. If you add the FREE NICOTINE BOOSTER and add it to the 50ml of eliquid, this will make a 60ml e liquid of 3mg Nicotine strength.
Available in: 1 x 60ML Bottle with 50ml of e liquid (Zero Nicotine)
Please Note: Adding 1 x Nicotine Booster (18mg) to this bottle and shaking it will make this e liquid into approximately 3mg Nicotine Strength
VG/PG RATIO
VG 70% / PG 30%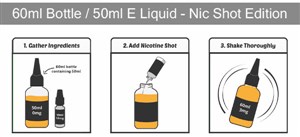 Other Details
VG Juice Mix:
70% VG / 30% PG
Nicotine Strength:
0 Mg Nicotine
Bottle Size:
1 x 50ml (Short Fill)