Tropical Bubblegum Shortfill E Liquid 50ml by OMVG
Product Description
Product Reviews
Tropical Bubblegum E Liquid 50ml by OMVG
Those of you who love a sweet fruity treat and enjoyed exotic tasting bubble gum in the past will love the OMVG Tropical Bubble Gum Short Fill High VG E Liquid. Clear, strong, fresh and utterly delicious flavours merge to create a tropical fruity sweet treat quite unlike any other. Load this up into your favourite e cigarette, take a draw and be transported to a tropical island with sun, sea and juicy, tropical fruits. Strong enough to have your taste buds jiggling yet still mellow enough to enjoy day or night, or perhaps as your main everyday vape liquid, it's no wonder the OMVG Tropical Bubble Gum Short Fill High VG E Liquid hs been proving to be so popular.

As a high VG e liquid with a base of up to seventy percent VG this OMVG e liquid offers the added benefits of a smooth and moreish vape and some impressive big vape cloud action. If you're a cloud chaser you'll love this flavour and the OMVG high VG benefits.

To take your enjoyment one step further, this is a short fill e liquid. Short fills, as the name suggests, are bottles of zero nicotine e liquid with a gap left at the top. That gap is there for you to add a nicotine shot of your choice, completely customising the nicotine strength of the vape and therefore your throat hit. Clever, eh?

OMVG have once again pulled out all of the stops with the OMVG Tropical Bubble Gum Short Fill High VG E Liquid. They strive to always be at the forefront of the latest vaping industry developments and are keen to adopt new production and design processes so that you always have access to the very best and most up to date taste innovations. This coupled with the fact that OMVG use only the very best grade ingredients in each and every batch is what has vaping customers coming back time and time again.

If this particular flavour isn't for you check out our other OMVG High VG e liquids. With a wide range of high quality flavours to choose from you'll be spoilt for choice!
FREE NICOTINE SHOT WITH THIS SHORT FILL E LIQUID TO MAKE 60ML E LIQUID
This is a UK made short fill e liquid that is available in a single 60ml bottle. If you add the FREE NICOTINE BOOSTER and add it to the 50ml of eliquid, this will make a 60ml e liquid of 3mg Nicotine strength.
Available in: 1 x 60ML Bottle with 50ml of e liquid (Zero Nicotine)
Please Note: Adding 1 x Nicotine Booster (18mg) to this bottle and shaking it will make this e liquid into approximately 3mg Nicotine Strength
VG/PG RATIO
VG 70% / PG 30%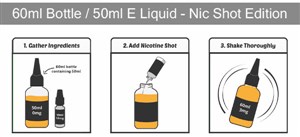 Other Details
VG Juice Mix:
70% VG / 30% PG
Nicotine Strength:
0 Mg Nicotine
Bottle Size:
1 x 50ml (Short Fill)