Orange Fantasi Shortfill E Liquid 50ml by OMVG
Brand: OMVG
2 product reviews
Product Description
Product Reviews
Orange Fantasi E Liquid 50ml by OMVG
OMVG Orange Fantasi high VG e liquid offers a Malaysian style orange fizz taste explosion quite unlike any other. Styled after the famous Fanta orange drink, this unique take on the original offers a cool, fresh and taste-bud tingling sweet fruity treat. The secret to the OMVG Orange Fantasi success is the smooth cooling low mint undertone. A perfect vape flavour for those times where a fruity pick me up is needed or even as an everyday favourite.
Being high VG you have the pleasure of enjoying this mouth-watering orange fizz flavour via big vape clouds. Whether you're a cloud chaser, sub ohm vaper or simply in it for the flavour, you'll not go far wrong with the OMVG Orange Fantasi high VG e juice.

If this particular flavour isn't for you check out our other OMVG High VG e liquids. With a wide range of high quality flavours to choose from you'll be spoilt for choice!
FREE NICOTINE SHOT WITH THIS SHORT FILL E LIQUID TO MAKE 60ML E LIQUID
This is a UK made short fill e liquid that is available in a single 60ml bottle. If you add the FREE NICOTINE BOOSTER and add it to the 50ml of eliquid, this will make a 60ml e liquid of 3mg Nicotine strength.
Available in: 1 x 60ML Bottle with 50ml of e liquid (Zero Nicotine)
Please Note: Adding 1 x Nicotine Booster (18mg) to this bottle and shaking it will make this e liquid into approximately 3mg Nicotine Strength
VG/PG RATIO
VG 70% / PG 30%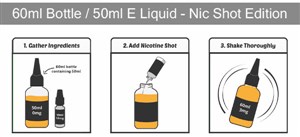 Other Details
VG Juice Mix:
70% VG / 30% PG
Nicotine Strength:
0 Mg Nicotine
Bottle Size:
1 x 50ml (Short Fill)
Write Review
BREAKFAST VAPE

Posted by stephen jones on 15th Oct 2018

OMVG orange fantasi with cornflakes , best flavour I have experienced so far, stronger hits with a taste that lasts , orange fantasi is a very good vape , highly recommend.

Orange Fantasi

Posted by Mike Everett on 8th Oct 2018

Sorry, loaded the orange fantasi review on the strawberry melon. Anyway good strong slightly bitter orange followed by tingling on the tongue. Excellent.