Mixed Berry Shortfill E Liquid 50ml by OMVG
Shipping:
£2.99 (Fixed Shipping Cost)
VG Juice Mix:
70% VG / 30% PG
Nicotine Strength:
0 Mg Nicotine
Bottle Size:
1 x 50ml (Short Fill)
E Liquid Type:
Nicotine Free
Spend £25 or more for FREE DELIVERY
&nbsp
Mixed Berry E Liquid 50ml by OMVG
For a truly awesome berry blast that is reminiscent of the taste of freshly picked berries, crammed into your mouth during summer picking when you were little, the OMVG Mixed Berry High VG e Liquid is just the thing. If you are looking for an e juice which will tickle the taste buds and have your senses reeling, this is the eliquid for you. This high VG e liquid is not offering you the kind of mixed berry experience you might expect from mixed berry squash or a mixed berry ice lolly, oh no! This is the real deal. We are talking some seriously mouth-watering berry goodness right here.

Being a high VG e liquid (all OMVG high VG e liquids sport a 70%/30% VG to PG mix) not only do you have here some awesome flavourings (we can detect something cool and smooth underneath the mixed berry flavour strands but haven't quite been able to put our finger on what it is), you also have the opportunity to experience them via some seriously good big vape clouds. Again, all OMVG e liquids are produced using only the very best, highest pharmaceutical grade ingredients so that all their e cig liquid batches are top of the shelf quality. This means that the fluffy vape clouds you create with your favourite e cigarette device are all going to be as full, as smooth and as intensely pleasurable as is possible.

This might seem a lot of hype for what is basically an electronic cigarette liquid however you'll soon see that the OMVG mixed berry high VG e liquid lives up to its reputation from the very first draw.
If this particular flavour isn't for you check out our other OMVG High VG e liquids. With a wide range of high quality flavours to choose from you'll be spoilt for choice!
FREE NICOTINE SHOT WITH THIS SHORT FILL E LIQUID TO MAKE 60ML E LIQUID
This is a UK made short fill e liquid that is available in a single 60ml bottle. If you add the FREE NICOTINE BOOSTER and add it to the 50ml of eliquid, this will make a 60ml e liquid of 3mg Nicotine strength.
Available in: 1 x 60ML Bottle with 50ml of e liquid (Zero Nicotine)
Please Note: Adding 1 x Nicotine Booster (18mg) to this bottle and shaking it will make this e liquid into approximately 3mg Nicotine Strength
VG/PG RATIO
VG 70% / PG 30%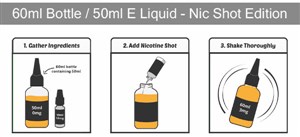 We only ship orders to UK and operate a Same Day Dispatch (99% of the time, sometimes delays may occur) on all orders placed before 4pm on working days (Monday to Friday excluding weekends & Bank Holidays). Any orders placed after 4pm cut off on weekdays (Monday to Friday) or over weekends, will be dispatched the next WORKING day. We do not dispatch goods over weekends or bank holidays and do not offer delivery on Bank Holidays.
When you place an order, we will estimate a delivery date for you based on the shipping method you have chosen. This is an estimation only and is not guaranteed delivery date. All orders are shipped in discreet packaging.
You may return most new unopened items (excluding e liquids) within 14 days of delivery for a full refund excluding our postage costs we have incurred. We'll also pay the return shipping costs if the return is a result of our error (you received an incorrect item etc.). If the item is reported as defective, we will check item for issue/fault before deeming it faulty.
You should expect to receive your refund within 7 working days of the return arriving with us and being deemed faulty, however, in many cases you will receive a refund more quickly. This time period includes the product testing and the time it takes your bank to process our refund request (3 to 5 working days).
If you need to return an item, please Contact Us with your order number and details about the product you would like to return. We will respond quickly with instructions for how to return items from your order.