Lemon Sorbet Shortfill E Liquid 50ml by OMVG
Brand: OMVG
1 product review
Product Description
Product Reviews
Lemon Sorbet E Liquid 50ml by OMVG
It's sweet, it's fruity, it's fresh and altogether pretty blooming wonderful; the OMVG Lemon Sorbet High VG e Liquid is the bee's knees and is also one of our most popular sub ohm e juice flavours. When it comes to UK made e liquid OMVG pull out all of the stops to create awesome flavour and ingredient quality that is evidence from your very first draw when your e cigarette is loaded up with this delicious vape liquid. Lemon sorbet is one of those flavours that really does tick all of the boxes. Not only do you have the tang of fresh lemons, you also have the sweetness and coolness that comes hand in hand with this popular dessert in "real life". Those clever mixologists from OMVG clearly know their stuff because if you take a draw and close your eyes you may truly believe that you have a glass dish of finest lemon sorbet in front of you and a spoon in hand!

High VG e liquid fans will rejoice to find that not only is this popular flavour made by OMVG (who are known for excellent quality flavours) but that it sports a 70%/30% VG dominant base and we all know what that means, don't we? Yes! Big vape cloud enjoyment with each and every draw. Seriously, you will be hard-pressed to find a fuller more flavoursome vapour than the OMVG e juice experts create. These vape clouds are positively fluffy!

Don't take our word for it though, add to basket now for ultimate OMVG lemon sorbet high VG e liquid enjoyment.

If this particular flavour isn't for you check out our other OMVG High VG e liquids. With a wide range of high quality flavours to choose from you'll be spoilt for choice!
FREE NICOTINE SHOT WITH THIS SHORT FILL E LIQUID TO MAKE 60ML E LIQUID
This is a UK made short fill e liquid that is available in a single 60ml bottle. If you add the FREE NICOTINE BOOSTER and add it to the 50ml of eliquid, this will make a 60ml e liquid of 3mg Nicotine strength.
Available in: 1 x 60ML Bottle with 50ml of e liquid (Zero Nicotine)
Please Note: Adding 1 x Nicotine Booster (18mg) to this bottle and shaking it will make this e liquid into approximately 3mg Nicotine Strength
VG/PG RATIO
VG 70% / PG 30%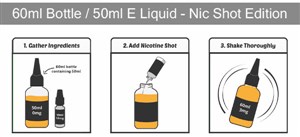 Other Details
VG Juice Mix:
70% VG / 30% PG
Nicotine Strength:
0 Mg Nicotine
Bottle Size:
1 x 50ml (Short Fill)