Dripping With Early Vaping Atomizers

We only need to look back as far as 2009 to see examples of vaping atomizers that now seem primitive. These early designs were often just a simple metal tube with an 808-d, 401, or other non-standard threaded connector. The familiar 510 connector didn't become the accepted standard until about 2010.

Early 510 atomizers were usually built into a ceramic cup. At the core of these early ceramic atomizers was a Kanthal coil protected by a wire mesh 'bridge'. No sub-Ohm vaping here – these coils typically fell into the 1.5 to 3.0 Ohm resistance range The preferred wicking material at that time was often stranded silicon. Early dripping involved squeezing a few drops of e liquid directly onto the mesh bridge and wicking material surrounding the coil.

While dripping was generating great flavour, some vapers found it a real bind when they had to continually feed the coil with fresh e liquid. This is how cartomizers became more popular on the vaping scene. Early cartomizers were little more than a tube (cartridge) packed with wicking material to soak up a few ml of e liquid. Cartomizers evolved pretty quickly into the familiar e juice 'tanks' with much more capacity.

The Birth of the RDA

Even with so many rapid changes in vape design, there was a revival of interest in direct dripping between 2011 and 2012. The story goes that vapers were dissatisfied with the e juice purity and flavour coming from the new cartomizers and tanks. Whatever the reason, a new self-build movement began to experiment with home-grown coils and wicking materials. Naturally, it wasn't long before the vaping industry responded by announcing the birth of the 'Rebuildable Dripping Atomizer' (RDA).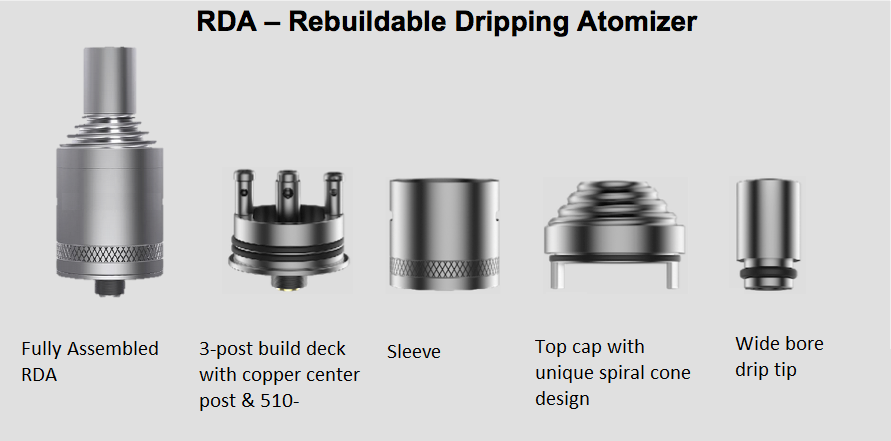 Modern RDA's

Although the fundamental design hasn't really changed, modern RDA manufacturers have refined some of component parts to make self-building a little easier. Modern RDA's are very similar to the coil heads that you'll see in any vaping atomizer. Most of them are round, with a standard 510 connection on the base. Typically, some kind of protective metal cap will cover the 'deck'. The deck houses 2 or more posts with holes and screw connectors for attaching the coils. Coils can either be self-wound, or bought 'ready-made' from a vape store. Before the RDA can be used, some type of wicking material needs to be passed through, or packed around the coils. These days, organic Japanese cotton is often the preferred option.

There are still a large number of dedicated, direct dripping enthusiasts in the vaping community. Dripping involves placing drips of e liquid directly onto the coils, wicks or well of a particular RDA (specific designs vary). Dripping RDA's will typically take 10 to 30 drips of e liquid on each fill – just enough for a few minutes vaping. The exact number of vapes varies, depending on factors like the coil wire, wattage and battery charge. With experience, you learn how to avoid a dry hit – a painful inhalation from a 'dry' coil.

Dripping with an RDA – where to start

If you'd like to join the adventurous community of dripping enthusiasts, YouTube is a great place to start. A simple search on 'RDA dripper tutorial' will open up a whole world of advice and step-by-step 'how-to' guides. Improvements in coil design, wire types and wicking have all been helped along by RDA and dripping innovators.

Some say that the whole sub-Ohm movement was triggered by RDA enthusiasts. These guys continually pushed the boundaries in search of bigger clouds and cleaner flavours. Now, safe, sanitized sub-Ohm vaping is available for all. The latest mods and starter kits offer incredibly high wattage, gargantuan clouds and great flavours. All for a fraction of the price of earlier, less impressive vaping equipment.

While sub-Ohm coils, tanks and the mods that power them are popular with the vaping masses, there will always be a place for the intrepid few who set their sights a little higher. For those few, RDA dripping still offers the ultimate 'hands on' vaping experience.