Blackcurrant Shortfill E Liquid 50ml by OMVG
Brand: OMVG
1 product review
Product Description
Product Reviews
Blackcurrant E Liquid 50ml by OMVG
Those clever mixologists over at OMVG e liquid knew what they were doing when they put together the OMVG Blackcurrant Short Fill High VG E Liquid. This isn't the sickly-sweet blackcurrant flavour from those somewhat sour juice cartons you had at school, this is a full, fresh, fruity and earthy flavour that is as perfect as the blackcurrant taste you get when you eat the very freshest, just picked blackcurrant fruit.

Short fill e liquids are bottles containing 50ml of zero nicotine e liquid and space for you to add up to 10ml of nicotine yourself. The reason that this works so well is that it enables vapers to customise their e liquids with whatever strength nicotine they prefer. When buying a shortfill e liquid you simply choose the flavour and type that you like, fill and go! It really is as simple as that and you are left with a bespoke e liquid that is perfect for you.

Not only is the OMVG Blackcurrant Short Fill High VG E Liquid perfect for allowing you to customise your vape liquid, these e juice, being high VG (sporting a 70%/30% VG to PG base) are perfect for use as a dripping liquid, as a sub ohm e juice and of course being VG are great for those of you who enjoy a high quality, full of flavour big vape cloud.

Infused with blackcurrant awesomeness you'll be hard-pressed to find a no nicotine vape that is of such a high quality anywhere else, thanks to OMVG's insistence on using the highest pharmaceutical grade ingredients in each and every batch.

If this particular flavour isn't for you check out our other OMVG High VG e liquids. With a wide range of high quality flavours to choose from you'll be spoilt for choice!
FREE NICOTINE SHOT WITH THIS SHORT FILL E LIQUID TO MAKE 60ML E LIQUID
This is a UK made short fill e liquid that is available in a single 60ml bottle. If you add the FREE NICOTINE BOOSTER and add it to the 50ml of eliquid, this will make a 60ml e liquid of 3mg Nicotine strength.
Available in: 1 x 60ML Bottle with 50ml of e liquid (Zero Nicotine)
Please Note: Adding 1 x Nicotine Booster (18mg) to this bottle and shaking it will make this e liquid into approximately 3mg Nicotine Strength
VG/PG RATIO
VG 70% / PG 30%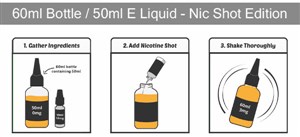 Other Details
VG Juice Mix:
70% VG / 30% PG
Nicotine Strength:
0 Mg Nicotine
Bottle Size:
1 x 50ml (Short Fill)
Write Review
Yummy

Posted by stephen jones on 12th Oct 2018

I love blackcurrant flavour , they also do apple and blackcurrant , it is a nice flavour but don't vape over 80 watt's, this is the sweet spot for blackcurrant , very easy to lose the taste of this juice, I used 2 shots to give 6% nicotine you will have to use two 2ml tanks of juice first to get the second nic shot into the bottle, I have found the plastic on some of these OMVG to be a bit stiff to squeeze but in time they become easy to use, very fast refills. Quality high VG e-juice.