Blackcurrant Fantasi Shortfill E Liquid 50ml by OMVG
Product Description
Product Reviews
Blackcurrant Fantasi E Liquid 50ml by OMVG
If you're looking for a sweet berry treat with a special something extra, the OMVG Blackcurrant Fantasi is for you! As with all Malaysian style e liquids this e juice produces a fabulously tasty earthy, deep and incredibly satisfying blackcurrant vapour with more than a hint of a truly delicious sweet menthol; a cool low mint that lifts the whole flavour experience to new heights. Perfect for fruity fans and the sweet-toothed vapers amongst us, the OMVG Blackcurrant Fantasi is also popular amongst sub ohm vapers, dripping liquid searchers and big vape cloud chasers. Yes, as well as being made by expert mixologists, using the very best ingredients, this e juice is also a high VG e juice.

Just when you though the OMVG Blackcurrant Fantasi couldn't get any better, you notice the affordable price tag. What are you waiting for? Add this fabulously flavour e liquid to your basket and before you know it you'll be enjoying full, fruit-infused vapour quite unlike anything you've tried before.

If this particular flavour isn't for you check out our other OMVG High VG e liquids. With a wide range of high quality flavours to choose from you'll be spoilt for choice!
FREE NICOTINE SHOT WITH THIS SHORT FILL E LIQUID TO MAKE 60ML E LIQUID
This is a UK made short fill e liquid that is available in a single 60ml bottle. If you add the FREE NICOTINE BOOSTER and add it to the 50ml of eliquid, this will make a 60ml e liquid of 3mg Nicotine strength.
Available in: 1 x 60ML Bottle with 50ml of e liquid (Zero Nicotine)
Please Note: Adding 1 x Nicotine Booster (18mg) to this bottle and shaking it will make this e liquid into approximately 3mg Nicotine Strength
VG/PG RATIO
VG 70% / PG 30%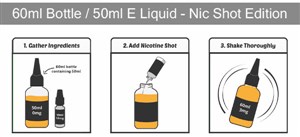 Other Details
VG Juice Mix:
70% VG / 30% PG
Nicotine Strength:
0 Mg Nicotine
Bottle Size:
1 x 50ml (Short Fill)