Blackcurrant & Aniseed Shortfill E Liquid 50ml by OMVG
Product Description
Product Reviews
Blackcurrant & Aniseed E Liquid 50ml by OMVG
The OMVG Blackcurrant and Aniseed Short Fill High VG e Liquid is an incredibly moreish e juice full of flavour that quickly becomes a firm favourite once tried. If dark, fruity fun with the naughty spice of aniseed appeals to you this is most definitely an e liquid that you should have in your collection. Somewhat sultry some might say, this is a fiercely flavoursome flavour that will awaken the senses and have your taste buds jumping for joy. There is an undertone of something else attached to this flavour mixture however we just can't work it out and OMVG aren't giving us any clues. Needless to say, whatever it is, it's doing the trick!

Now that you are (hopefully) sold on the fabulousness of the flavour of the OMVG Blackcurrant and Aniseed Short Fill High VG e Liquid, now imagine enjoying it via a thick, full and flavour infused big vape cloud. You don't need to imagine it for long as you can experience it yourself if you want to. As a high VG e liquid with a 70% VG base, this is an e liquid that is perfect for producing big vape clouds full of flavour, and even bigger vape clouds for cloud chasing enthusiasts with the right device!

And there's more! As a short fill e liquid you are in complete control of the nicotine strength of the

OMVG Blackcurrant and Aniseed Short Fill High VG e Liquid. Simply add a shot of nicotine of your choice to the OMVG Blackcurrant and Aniseed zero nicotine e liquid and you are good to go!

It's clear to see why customers are coming back time and time again to stock up on this particular ejuice!

If this particular flavour isn't for you check out our other OMVG High VG e liquids. With a wide range of high quality flavours to choose from you'll be spoilt for choice!
FREE NICOTINE SHOT WITH THIS SHORT FILL E LIQUID TO MAKE 60ML E LIQUID
This is a UK made short fill e liquid that is available in a single 60ml bottle. If you add the FREE NICOTINE BOOSTER and add it to the 50ml of eliquid, this will make a 60ml e liquid of 3mg Nicotine strength.
Available in: 1 x 60ML Bottle with 50ml of e liquid (Zero Nicotine)
Please Note: Adding 1 x Nicotine Booster (18mg) to this bottle and shaking it will make this e liquid into approximately 3mg Nicotine Strength
VG/PG RATIO
VG 70% / PG 30%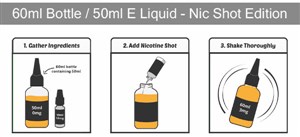 Other Details
VG Juice Mix:
70% VG / 30% PG
Nicotine Strength:
0 Mg Nicotine
Bottle Size:
1 x 50ml (Short Fill)