Apple Raspberry Shortfill E Liquid 50ml by OMVG
Product Description
Product Reviews
Apple Raspberry E Liquid 50ml by OMVG
If you're looking for a fabulous fruity vape the OMVG Apple Raspberry e liquid should be at the top of your list. This eliquid boasts an earthy, slightly sharp apple taste so realistic you can almost hear the crunch when you fire up your e cigarette. This coupled with sweet, tart raspberry flavourings produces a truly delicious thick, full big vape cloud. The OMVG Apple Raspberry e juice is perfect for those who love a fresh fruit vape, those who enjoy cloud chasing, and sub ohm vaping and of course those who know a great thing when it comes to them.

Produced by skilled mixologists, using the highest grade of ingredients and adhering to all TPD regulations, the OMVG Apple Raspberry ejuice is affordable, perfect for any time of the day or night, as special treat or as an everyday favourite. What are you waiting for? If this particular flavour isn't for you check out our other OMVG High VG e liquids. With a wide range of high quality flavours to choose from you'll be spoilt for choice!
FREE NICOTINE SHOT WITH THIS SHORT FILL E LIQUID TO MAKE 60ML E LIQUID
This is a UK made short fill e liquid that is available in a single 60ml bottle. If you add the FREE NICOTINE BOOSTER and add it to the 50ml of eliquid, this will make a 60ml e liquid of 3mg Nicotine strength.
Available in: 1 x 60ML Bottle with 50ml of e liquid (Zero Nicotine)
Please Note: Adding 1 x Nicotine Booster (18mg) to this bottle and shaking it will make this e liquid into approximately 3mg Nicotine Strength
VG/PG RATIO
VG 70% / PG 30%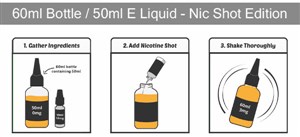 Other Details
VG Juice Mix:
70% VG / 30% PG
Nicotine Strength:
0 Mg Nicotine
Bottle Size:
1 x 50ml (Short Fill)