Pink Lemonade Shortfill E Liquid 50ml by OMVG
Product Description
Product Reviews
Pink Lemonade E Liquid 50ml by OMVG
Who would have thought that drink-flavoured vape liquids would be so popular? Many didn't until the pink OMVG Pink Lemonade High VG e liquid was released. Now we're complete coverts, as are many of our customers. Pink lemonade, a sweet, raspberry flavoured drink is known to quench your thirst and be extremely enjoyable, particularly on a hot and sunny day. OMVG vaping liquids have gone one further a produced a taste-bud teasing, sense-pleasing high VG e liquid which is as moreish and as enjoyable as the real drink but also something that may be enjoyed at any time of the day or night.

When it comes to vape liquids, OMVG pull out all of the stops, working hard to ensure that their UK made e liquid collections are second to none, use the best pharmaceutical grade ingredients and that their flavour mixologists create a flavour so pure that you'll have to remind yourself that actually, you are vaping a flavour, not drinking the real thing. Your taste buds will find it hard to differentiate between the two!

As well as offering awesome flavours the OMVG e liquids contain a 70%/30% VG to PG mix which means that these are perfect e liquids for anyone looking for some serious big vape cloud action. Those wanting to take the full of flavour vape cloud experience one step further should consider using the OMVG Pink Lemonade High VG e liquid in their favourite sub ohm device.

It's clear to see from the very first draw why Pink Lemonade flavoured e juice is so very popular. Don't be the only once who's never tried it. We're sure that once you have that you'll be back time and time again to stock up so that you may continue to enjoy high VG OMVG Pink Lemonade at any time of the day or night.
If this particular flavour isn't for you check out our other OMVG High VG e liquids. With a wide range of high quality flavours to choose from you'll be spoilt for choice!
FREE NICOTINE SHOT WITH THIS SHORT FILL E LIQUID TO MAKE 60ML E LIQUID
This is a UK made short fill e liquid that is available in a single 60ml bottle. If you add the FREE NICOTINE BOOSTER and add it to the 50ml of eliquid, this will make a 60ml e liquid of 3mg Nicotine strength.
Available in: 1 x 60ML Bottle with 50ml of e liquid (Zero Nicotine)
Please Note: Adding 1 x Nicotine Booster (18mg) to this bottle and shaking it will make this e liquid into approximately 3mg Nicotine Strength
VG/PG RATIO
VG 70% / PG 30%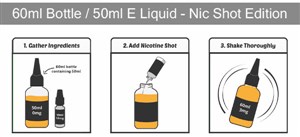 Other Details
VG Juice Mix:
70% VG / 30% PG
Nicotine Strength:
0 Mg Nicotine
Bottle Size:
1 x 50ml (Short Fill)