Mixed Berry & Liquorice Shortfill E Liquid 50ml by OMVG
Product Description
Product Reviews
Mixed Berry & Liquorice E Liquid 50ml by OMVG
When it comes to curious combinations the OMVG Mixed Berry and Liquorice Short Fill High VG E liquid offers taste-bud tickling tastes and much more besides. OMVG are known for going outside of the box when it comes to creating incredibly tasty e liquids that are so like the flavours they portray that you'd be forgiven for thinking the e liquids actually did contain, in this case, moreish berries and liquorice. Deep, dark, fruity with a hint of mischief, it's no wonder this flavour is proving so popular!

Being a high VG e liquid you are also able to enjoy these fabulous flavours via a smooth, flavour-infused big vape cloud, which is an experience many crave. If you're into sub ohm vaping or simply enjoy large vape clouds this e liquid will tick all of these boxes for you.

Not only does the OMVG Mixed Berry and Liquorice e liquid offer taste benefits quite unlike any other, you also have the opportunity to completely customise your vape by choosing your own nicotine strength. Being a short fill e liquid, when you receive the OMVG Mixed Berry and Liquorice ShortFill High VG e liquid you receive a bottle of zero nicotine e liquid with a gap in the top No, you aren't being short changed, this gap is there for you to fill will a nicotine shot of your choice in order to create a vape that's perfect for you.

If this particular flavour isn't for you check out our other OMVG High VG e liquids. With a wide range of high quality flavours to choose from you'll be spoilt for choice!
FREE NICOTINE SHOT WITH THIS SHORT FILL E LIQUID TO MAKE 60ML E LIQUID
This is a UK made short fill e liquid that is available in a single 60ml bottle. If you add the FREE NICOTINE BOOSTER and add it to the 50ml of eliquid, this will make a 60ml e liquid of 3mg Nicotine strength.
Available in: 1 x 60ML Bottle with 50ml of e liquid (Zero Nicotine)
Please Note: Adding 1 x Nicotine Booster (18mg) to this bottle and shaking it will make this e liquid into approximately 3mg Nicotine Strength
VG/PG RATIO
VG 70% / PG 30%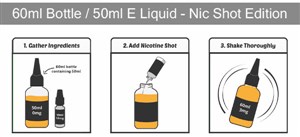 Other Details
VG Juice Mix:
70% VG / 30% PG
Nicotine Strength:
0 Mg Nicotine
Bottle Size:
1 x 50ml (Short Fill)