One thing that the vaping industry is great at (one of the many things) is introducing us to new and interesting lingo. You may be hearing a lot about squonking, squonker and squonk at the moment and in order to reduce confusion and make sure you are up to date with the latest developments here we have a breakdown of what squonker is.
As before, the vaping industry is constantly evolving and as such we as vapers are regularly introduced to new mods, e liquid flavours, designs and more. Some are slight upgrades and some are totally new and innovative. We're on hand to make sure you get the top spec kit and understand how to get the most out of it.
Some Squonker History
Mods that feed from the bottom, or squonker / squonk mods were first introduced back in 2009. It didn't take off as well as hoped for various reasons around design and manufacturing. The idea of squonker mods did not die altogether however as the first successful squonk mod which was named REO was much better received.
What is a Squonk Mod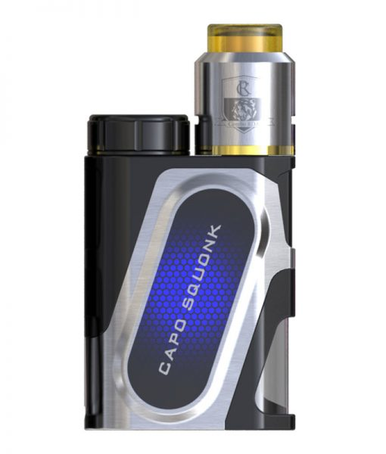 A bottom feeding mod may also go by the name squonk mod or squonker mod. The way these mods work is that they are a vaporizer that is usually powered via external battery, though not always, which feed your chosen e juice up to the RDA via a tube. More and more dual battery powered squonk mods are being released.
The bottles for e liquids are a fairly decent size usually, ranging up to 10ml which means less filling up for those vapers who vape an average amount per day. These bottles are plastic or silicone with most preferring the silicone options, making this the most commonly seen version.
So, Why Squonk?
For those who love to amplify their vaping enjoyment, especially when it comes to flavour enhancement, RDAs (Rebuildable Dripping Atomizer) and dripping have been long since recognised as being the winning combo amongst advanced vapers. The problem with dripping, which offers undeniable flavour and cloud-related awesomeness, is that they are fairly high maintenance.
Dripping is something you need to constantly be on top of in order to get the best results. It's also not the most convenient way to vape when travelling/out and about. RTDAs have eliminated some of the hassle of constantly having to drip/refill as they contact a small tank however many are concerned that if your main priority is flavour that there are noticeable differences in flavour freshness between the RDA and RTDA, with RDAs still coming out on top.
Squonk mods are the answer. They bypass the hassle of constantly dripping via a RDA and with no wicks being saturated with e liquid and left until next use (therefore not so fresh) The squonker deals with this freshness issue where the RTDA couldn't.
Basically, a squonk mod offers the fresh flavour of the RDA and the convenience of a RTDA without any of the complications these two forms do.
Don't get us wrong. It is certainly not time to put RDAs and RTDAs to bed, far from it. Both formats offer a wealth of features and benefits beyond those that squonking has taken over. If you're looking for a combination of the two then a squonk mod might be just the thing for you.
All in the Design
As with anything how good a result you may expect from your squonker mod will depend on the design and how you use it. All mods from Go Smoke Free are vigorously tested before hitting the shelves so that you know that you have the real deal at your fingertips. Vapers who have bought elsewhere however have reported issues with poorly fitting bottles and so on. If you want the best, you need to buy the best. Thankfully our prices remain as competitive and as affordable as always.
There are many different designs when it comes to squonk mods so have a look around and see what appeals best to you. If you have any questions, you know where we are.