Product Description
Product Reviews
Fruit Salad E Liquid 50ml by OMVG
If you crave something fruity cheeky and also fancy customising how much nicotine your e liquid has in it yourself, you're looking for the OMVG Fruit Salad Short Fill High VG e Liquid.Basically, when you choose a 50ml shortfill e juice you receive zero nicotine e liquid with space for you to add your own 10ml shot of nicotine, making your OMVG fruit salad electronic cigarette e liquid perfectly set up to suit your individual needs, wants and likes.

Short fill eliquids are increasingly popular as vapers do like the idea of creating e liquids with their favourite flavours and different nicotine strengths. Do you know what else vapers like? OMVG Fruit Salad, and we can't say that we blame then.

Pineapple and raspberry fruity tones merge to create a fruity yet sweet fruit salad taste, not unlike the sweets many of us enjoyed as children of the same name.OMVG use only the best grade ingredient in each and every batch of e liquid they produce using cutting edge production processes so that you end up with a truly awesome flavour delivered via some truly fantastic big vape clouds (thanks to the fact that this e liquid is a high VG e liquid as well as a short fill one).

Given that this is a high VG e liquid you may also use it as a dripping e liquid or for sub ohm e liquid vaping, both of which being alternative ways to enjoy one of the most popular flavours we've ever had the pleasure to sell.

Don't be shy, if what you're looking for is a fruity yet not tart, sweet yet not sickly e liquid that is mild enough to vape at any time of the day or night yet flavoursome enough to leave your senses reeling, the OMVG fruit salad short fill high VG e liquid is for you.

If this particular flavour isn't for you check out our other OMVG High VG e liquids. With a wide range of high quality flavours to choose from you'll be spoilt for choice!
FREE NICOTINE SHOT WITH THIS SHORT FILL E LIQUID TO MAKE 60ML E LIQUID
This is a UK made short fill e liquid that is available in a single 60ml bottle. If you add the FREE NICOTINE BOOSTER and add it to the 50ml of eliquid, this will make a 60ml e liquid of 3mg Nicotine strength.
Available in: 1 x 60ML Bottle with 50ml of e liquid (Zero Nicotine)
Please Note: Adding 1 x Nicotine Booster (18mg) to this bottle and shaking it will make this e liquid into approximately 3mg Nicotine Strength
VG/PG RATIO
VG 70% / PG 30%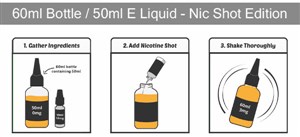 Other Details
VG Juice Mix:
70% VG / 30% PG
Nicotine Strength:
0 Mg Nicotine
Bottle Size:
1 x 50ml (Short Fill)