Product Description
Product Reviews
Blueberry E Liquid 50ml by OMVG
The OMVG Blueberry Short Fill High VG e Liquid is one of those nicotine free e liquid flavours which just flies off our shelves. If you're a blueberry fan you'll know that some blueberries are tart and some are sweet. Somehow the expert mixologists at OMVG e liquids have managed to mystically merge both of these to create a fresh, earthy, naughty and yet sweet blueberry flavour that is quite frankly out of this world.

Being a short fill high VG e liquid this OMVG Blueberry e liquid comes in a standard 50ml size with space (which explains the term shortfill) for you to put a 10ml shot of nicotine in at whichever strength suits your needs best. Short fill zero nicotine vape e liquids are brilliant for those who are looking to have access to a wide range of high VG electric cigarette liquid flavours.
Being a high VG zero nicotine e liquid, this is one e juice which offers you awesome big vape cloud fun alongside a high quality flavour that is so like the real blueberry taste that we are starting to believe that perhaps there's some spell casting going on. What else would explain such a magical flavour?

Enjoy this OMVG Blueberry e liquid day or night, knowing that it has been made from the very best pharmaceutical grade ingredients and with your enjoyment in mind. Who else offers the opportunity to customise your vaping juice the same way we do with this OMVG e liquid, especially as it also works brilliantly as a sub ohm e liquid as well as a dripping liquid.

If roll over the tongue flavour, nicotine strengths to suit you and truly awesome big vape clouds are what you're looking for, they're all here and waiting for you.

If this particular flavour isn't for you check out our other OMVG High VG e liquids. With a wide range of high quality flavours to choose from you'll be spoilt for choice!
FREE NICOTINE SHOT WITH THIS SHORT FILL E LIQUID TO MAKE 60ML E LIQUID
This is a UK made short fill e liquid that is available in a single 60ml bottle. If you add the FREE NICOTINE BOOSTER and add it to the 50ml of eliquid, this will make a 60ml e liquid of 3mg Nicotine strength.
Available in: 1 x 60ML Bottle with 50ml of e liquid (Zero Nicotine)
Please Note: Adding 1 x Nicotine Booster (18mg) to this bottle and shaking it will make this e liquid into approximately 3mg Nicotine Strength
VG/PG RATIO
VG 70% / PG 30%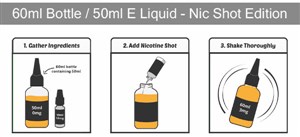 Other Details
VG Juice Mix:
70% VG / 30% PG
Nicotine Strength:
0 Mg Nicotine
Bottle Size:
1 x 50ml (Short Fill)