Blackcurrant Fantasi Ice Shortfill E Liquid 50ml by OMVG
Product Description
Product Reviews
Blackcurrant Fantasi Ice E Liquid 50ml by OMVG
This is an e juice which tickles the taste buds and has your senses reeling with joy. One draw on the OMVG Blackcurrant Fantasi Ice e liquid and you'll understand exactly what we mean. As with all Malaysian-style e liquids this fabulously authentic fresh blackcurrant e liquid merges with a sweet, cool, low mint undertone which transforms it. To finish this flavour off, to add the icing on the cake the OMVG mixologists have added an icy chill. Believe us when we say that this is a high VG e liquid that you don't want to miss out on. Here at Go Smoke Free we've vaped the OMVG Blackcurrant Fantasi Ice e liquid ourselves and still can't quite put our finger on what the mysterious added sweet cooling chill is. We know we like it though.

These fabulous flavour combinations, the high VG big vape clouds and the enjoyment that comes with vaping this e juice would not be possible if the powers that be didn't insist on the best. The best ingredients, the most talented mixologists, cutting edge production processes and one eye at all times on what's going on in the vaping world is what comes together to produce a vape such as this. Thinking about it that way, at these prices the OMVG e liquids represent amazing value. They're gentle on your budget too.

If this particular flavour isn't for you check out our other OMVG High VG e liquids. With a wide range of high quality flavours to choose from you'll be spoilt for choice!
FREE NICOTINE SHOT WITH THIS SHORT FILL E LIQUID TO MAKE 60ML E LIQUID
This is a UK made short fill e liquid that is available in a single 60ml bottle. If you add the FREE NICOTINE BOOSTER and add it to the 50ml of eliquid, this will make a 60ml e liquid of 3mg Nicotine strength.
Available in: 1 x 60ML Bottle with 50ml of e liquid (Zero Nicotine)
Please Note: Adding 1 x Nicotine Booster (18mg) to this bottle and shaking it will make this e liquid into approximately 3mg Nicotine Strength
VG/PG RATIO
VG 70% / PG 30%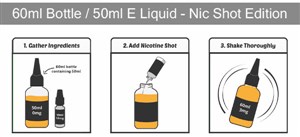 Other Details
VG Juice Mix:
70% VG / 30% PG
Nicotine Strength:
0 Mg Nicotine
Bottle Size:
1 x 50ml (Short Fill)