Both the eGo CE4 and the eGo CE8 clearomisers produce a large amount of vapour and an unbeatably smooth flavour. As such these two models are amongst the most popular on the market at present. Both boast see-through containers which make it easy to see how much e liquid is left and to let vapers know when to refill, for ultimate efficiency. Clearly both are top quality choices so what is the difference between the two?
Key Differences between the eGo CE8 and eGo CE8 Clearomisers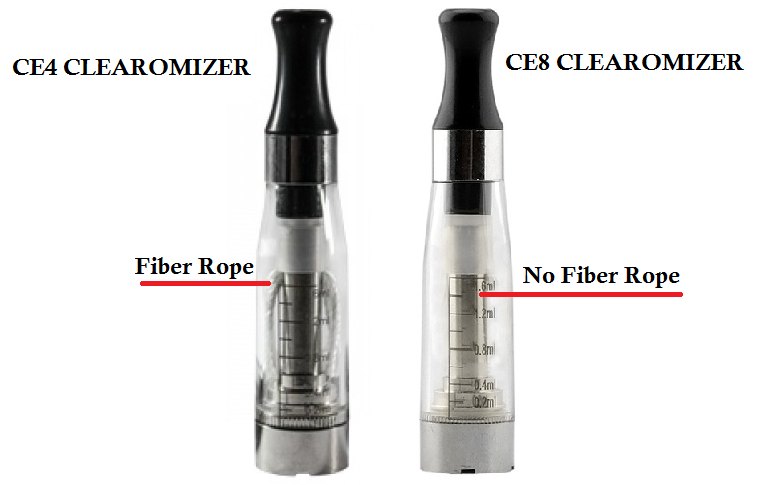 The most notable difference between these two models is the wick. The CE8 doesn't use the traditionally seen fiber-rope wick and is classed as being wickless. A cotton core centre is instead utilised which in turn absorbs your favourite e liquid.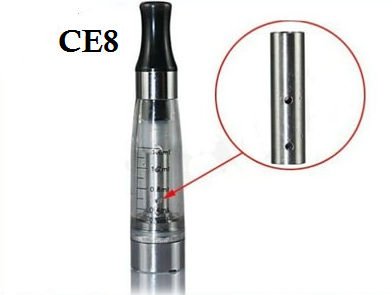 Testing shows that this type of wickless design reduces the risk of a build-up in the chamber and eliminates the unpleasant taste that comes hand in hand with a clogged atomiser. These clearomizer basics might help you avoid this issue.
Additionally the eGo CE8's inner tube has been designed so that it now has four holes which allow for optimum flow of the chosen e liquid through the atomiser, producing a smoother and certainly a richer flavour.
Last but not least the CE8, unlike the eGo CE4 may be taken apart and rebuilt with ease.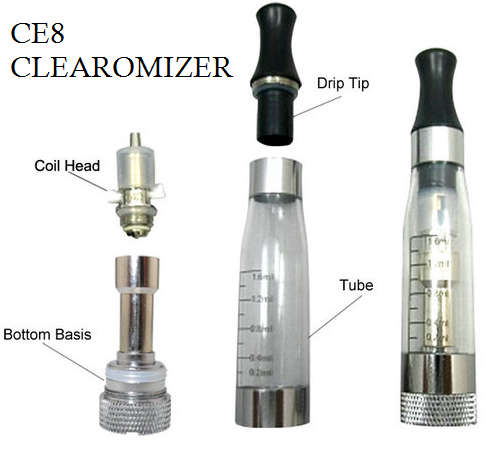 This allows for smokers to replace parts as required, instead of replacing the whole e cigarette and allows for easier maintenance, enabling the user to enjoy their e cigarette for long and maintaining the quality of its usage. This feature makes the CE8 a great value for money product as quality is maintained and the e cigarette lasts longer.
Both the eGo CE4 and the CE8 work really well and do what smokers need them to. In many ways both models are similar as they are both the same size and both have a *maximum e liquid capacity of 1.6ml and both come is the same range of colours. Should you want the additional features that the CE8 offers then upgrading could be the best choice here however if you are happy with the CE4 then there is no need to replace your cigarette unless you need to.
Update: It is important to remember that the government TPD compliance rules now states that tank sizes must not exceed 2.0ml.