Product Description
Product Reviews
Bubble Razz Flavour E Liquid is manufactured by Chubby Bubble Vapes brand. Bubble Razz by Chubby Bubble Vapes is the mouthwatering flavor combination of sweet blue raspberries and bubble gum like you never had before. In fact, when you bring together that incredibly satisfying taste of yummy raspberries and chewy, sticky bubblegum flavor, you will have a satisfied vape palate, plus your sweet tooth gets what it has been craving for.
FREE NICOTINE SHOT WITH THIS SHORT FILL E LIQUID TO MAKE 60ML E LIQUID
This is a USA made short fill e liquid that is available in a single 60ml bottle. If you add the FREE NICOTINE BOOSTER and add it to the 50ml of eliquid, this will make a 60ml e liquid of 3mg Nicotine strength.
Available in: 1 x 60ML Bottle with 50ml of e liquid (Zero Nicotine)
Please Note: Adding 1 x Nicotine Booster (18mg) to this bottle and shaking it will make this e liquid into approximately 3mg Nicotine Strength
BUBBLE RAZZ VG/PG RATIO
VG 70% / PG 30%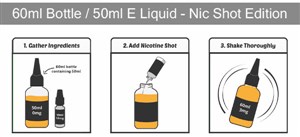 Other Details
VG Juice Mix:
70% VG / 30% PG
Nicotine Strength:
0 Mg Nicotine
Bottle Size:
1 x 50ml (Short Fill)