Product Description
Product Reviews
Bluberg E Liquid 50ml by OMVG
If you have that feeling that you want something but you're not quite sure what it is you're looking for, what you're looking for could well be the OMVG Bluberg Short Fill High VG e Liquid. There's mint (or is it peppermint, no menthol, no peppermint?), something slightly spicy, fruity and definitely some aniseed. Or at least we think there is. The OMVG Bluberg flavour has long since been shrouded in mystery however what we say is this: it may not be clear what each flavour strand is, but what is clear is that merged together they are nothing short of awesome.

If you're wondering what shortfill means here it is. When you choose to buy a 50ml short fill e liquid what you get is 50ml zero nicotine flavoured e juice with room in the top of the bottle to fit another 10ml. That 10ml is for a nicotine shot of your choosing at whatever strength you want, creating a bespoke high VG e liquid from zero nicotine e liquid in just one simply step.

Not only is the idea of a short fill e liquid genius, choosing an OMVG e liquid is just as genius, if not more. These high VG e liquid flavours offer you the chance to enjoy some serious flavours inside some seriously good big vape clouds. You'd be hard-pressed to find e liquids that use such high grade ingredients and the best manufacturing processes who don't charge you the sky for the privilege. OMVG Bluberg Short Fill High VG e liquid is as mysterious as its name suggests and as enjoyable as your wildest dreams wish for.

If this particular flavour isn't for you check out our other OMVG High VG e liquids. With a wide range of high quality flavours to choose from you'll be spoilt for choice!
FREE NICOTINE SHOT WITH THIS SHORT FILL E LIQUID TO MAKE 60ML E LIQUID
This is a UK made short fill e liquid that is available in a single 60ml bottle. If you add the FREE NICOTINE BOOSTER and add it to the 50ml of eliquid, this will make a 60ml e liquid of 3mg Nicotine strength.
Available in: 1 x 60ML Bottle with 50ml of e liquid (Zero Nicotine)
Please Note: Adding 1 x Nicotine Booster (18mg) to this bottle and shaking it will make this e liquid into approximately 3mg Nicotine Strength
VG/PG RATIO
VG 70% / PG 30%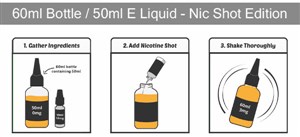 Other Details
VG Juice Mix:
70% VG / 30% PG
Nicotine Strength:
0 Mg Nicotine
Bottle Size:
1 x 50ml (Short Fill)